Last Updated on January 11, 2022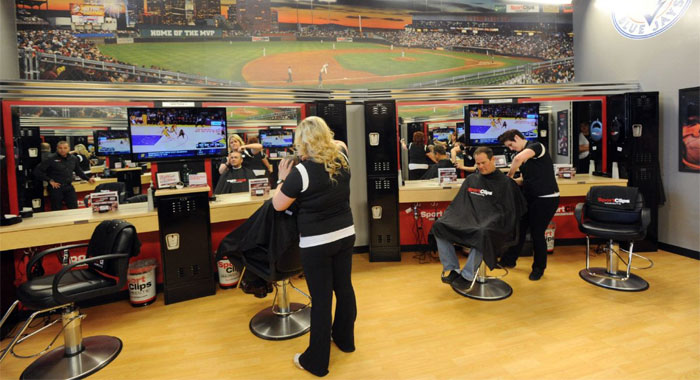 With a business vision catering to only men and boys, Sport Clips has a unique niche in the hair salon world. With "It's good to be a guy" as the store slogan, you can see why this chain of salons has made such a huge impact on haircare for the oft-forgotten gender in the health and beauty sector.
Sport Clips prices start at about $25 for a men's precision haircut and go up from there.
Why Choose Sport Clips?
Although many salon chains do offer cuts and styling services to men and boys, most of them style their offerings, services and decor more for women's needs and desires. Therefore, not all males feel comfortable in most salons today.
If you are a man looking for a place where you can feel comfortable, Sport Clips is an excellent choice. Styled after the commonplace barbershops of old, Sport Clips is anything but boring.
See Also: Barber vs Hairdresser Differences
The vibrant, bright atmosphere that looks much like a sports bar appeals to men. Plus the stylists are specifically trained to provide men's cuts and styles.
Another good reason to try Sport Clips is that it offers online check-in (similar to what Great Clips does). While no appointment is necessary to get a hair cut, online check-in lets you view wait times for all of the salons in your area.
When you check in, you can get your name on the wait list if there is a wait time, and you can request your favorite stylist.

Services Offered
Sport Clips offers its services around a sports theme similar to Knockouts Haircuts for Men. The most popular offering is the MVP experience, which includes a consultation, a precision haircut, a hot steamed towel face wrap, a massaging shampoo and a relaxing neck and shoulder treatment that is available in most states. After this full service, you will go away feeling incredibly relaxed and looking great.
A slightly cheaper alternative is the Triple Play, which includes all of the MVP services except for the neck and shoulder treatment.
While these combined services are often the most popular, there are several other options depending on your needs and your timeframe. The varsity haircut gives you a simple haircut alone and is also appropriate for boys and seniors.
If you just need a quick trim, you can stop in between your regular cuts for a complimentary neck trim. For a bit of extra relaxation, opt for the double or triple MVP to significantly lengthen the relaxing part of the MVP experience.
Related: Roosters Men's Grooming Prices
Sport Clips Price List
Disclaimer: Prices above are for estimate only. The data has been gathered from various sources (online, on-site, and/or via phone). Pricing may vary from one location to another of the same salon brand or may not be current. To confirm current pricing, please contact your local salon.
Service
Price

HAIRCUTS

Varsity

Precision haircut.

$25
Jr. Varsity

Precision haircut (12 and under).

$20
Sr. Varsity

Precision haircut (65 and wiser).

$20

Triple Play Experience

Includes: Haircut, steamed towel, and massaging shampoo.

Triple Play
$30
Triple Play (Double)

Enjoy your Triple Play Experience 2 times longer.

$34
Triple Play (Triple)

Enjoy your Triple Play Experience 3 times longer.

$39

MVP Experience

Includes: Haircut, steamed towel, massaging shampoo, neck & shoulder massage.

MVP
$32
MVP (Double)

Enjoy your MVP Experience 2 times longer.

$38
MVP (Triple)

Enjoy your MVP Experience 3 times longer.

$46

Extra Innings (Other Services)

Complimentary Neck Trim

Visit in-between haircuts.

Free
Beard Detailing
Varies
Salon Hours
Disclaimer: Hours of operation may vary slightly from one location to the next. To confirm current hours, please contact your local salon.
| Day | Hours |
| --- | --- |
| Monday | 9:00am – 8:00pm |
| Tuesday | 9:00am – 8:00pm |
| Wednesday | 9:00am – 8:00pm |
| Thursday | 9:00am – 8:00pm |
| Friday | 9:00am – 8:00pm |
| Saturday | 9:00am – 6:00pm |
| Sunday | 11:00am – 5:00pm |
Products Sold
If you love how you look when you leave Sport Clips, you may want to invest in some of their salon-worthy products that are sold at each location. These products will keep your hair healthy, make it simple to style and give you a great look even when you do not have a professional to help you each day.
You can choose from many of the most popular salon-only brands designed just for men. Men's-only products can be difficult to find in many other stores or salons and are best picked up when you are already in for your cut.
Here you will find such popular men's brands as American Crew and Paul Mitchell. You can also purchase Joico, Mitch, Sexy Hair and Nioxin depending on your needs. Your stylist can help you choose the best line for your hair.
Company History
While barbershops used to cater most frequently to men in years past, this has been a traditionally underserved part of the market more recently.
Today's salons often appeal more to women even when they still offers men's cuts and styles, and many men may feel uncomfortable in many popular salons.
That is why Gordon Logan decided to found Sport Clips in 1993. He realized that men and boys wanted a place where they could feel like themselves and get their hair cut and styled in comfortable, friendly surroundings.
Mr. Logan had previously owned and operated other salons throughout Texas before he started his Austin-based Sport Clips. While it was originally privately owned, it became franchised by 1995.
Today, this salon brand is a thriving chain that can be found in every state. With over 1,600 salons across the country and many of them based in suburbs, you can most likely find one close to where you live as well.
Also Consider: Fantastic Sams
Sport Clips has made it a point to reach out to under-served clientele over the years. Not only do they provide haircuts, but also they have begun successful initiatives, such as the "Help a Hero" campaign for military personnel and veterans.
Sport Clips Links