Last Updated on January 11, 2022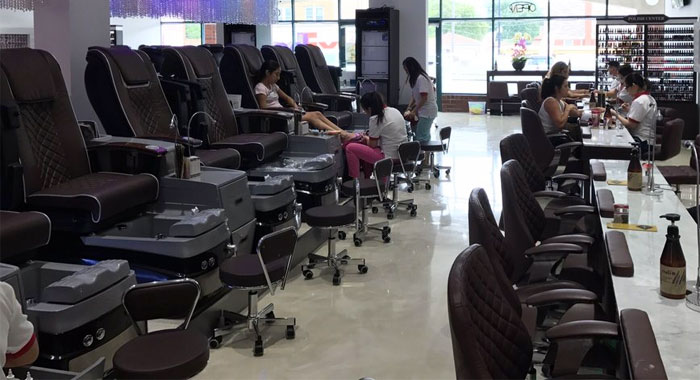 If you take your health and wellness seriously but still love to have gorgeous nails, then Lee Nails is the best salon for you.
This brand of independently owned franchises focuses on smart products that are good for your health so that you can feel proud of your wise choices and can enjoy strong, healthy nails for a lifetime.
Plus, with other add-on services, you can get a full beauty treatment at Lee Nails. Lee Nails prices start at around $18 for a basic manicure and go up from there depending on service.
Why Choose Lee Nails?
The biggest reason that you should choose Lee Nails and Spa over the many other nail salons that may be located in your suburban area is because of the high-quality products that the technicians use here.
While you will notice these premium products showing up in your overall price, you will be happy to know that these services, when used over a lifetime, can help you feel healthier in your body and can help your nails stay strong and shiny even after multiple services.
As much as is possible, Lee Nails chooses nail polishes, lotions and other products that are organic and chemical-free. In addition, this salon brand opts for products that have not been tested on animals.
This dedication to humane, sustainable, safe brands has made Lee Nails the obvious choice for health-conscious and environmentally conscious consumers for years.
See Also: VIP Nails Prices
Besides this, Lee Nails also offers a premium experience to men and women of all ages. Quality customer service and client satisfaction are the foundations of this nail salon, and you will benefit from this customer-centric focus whenever you step through the doors.
Because this is such a well-loved brand, you may want to make an appointment ahead of time to snag your preferred time and nail technician. However, walk-in clients are still welcome.

Services Offered
Manicures and pedicures form the foundation of premium services at Lee Nails and Spa. All the steps to a professional pedicure or manicure are followed and customers have plenty of options when it comes to this heart of the service menu.
A basic manicure or pedicure will give you a relaxing spa-like experience. However, if you want a strong polish finish that will last one to two weeks or longer, you may want to opt for a full set of acrylic nails that can be painted in any color you like or for gel nails, which look incredibly natural.
Lee also offers trendy dipping services that create even stronger finishes than gel nails do. To brighten up your nails and make the look your own, choose from specialty services and nail art, which includes cat eye nails, ombre colors and chrome nails. You can also get a quick fill-in for acrylic or gel nails here.
To lengthen your relaxing time at Lee Nails, considering adding on a body or facial service, such as waxing or eyelash extensions.
Skilled technicians offer full facial waxing or spot waxing treatment for the brows, chin, upper lip and more. Opt for a full set of lash extensions or the cheaper cluster lash option for increased lash volume.
Lee Nails Price List
Disclaimer: Prices above are for estimate only. The data has been gathered from various sources (online, on-site, and/or via phone). Pricing may vary from one location to another of the same salon brand or may not be current. To confirm current pricing, please contact your local salon.
Service
Price

MANICURES

Basic Manicure
$18
Deluxe Manicure
$30
No Chip Manicure
$42
Deluxe No Chip Manicure
$54

CLASSIC PEDICURES

Basic Pedicure
$30
Scrub Pedicure
$35
Deluxe Pedicure
$48
Crystal Deluxe Pedicure
$60
No Chip Pedicure
$60

ACRYLIC NAILS

Acrylic Fill In
$24
Acrylic Full Set
$36
No Chip Fill In
$48
No Chip Full Set
$60
Ombré Dipping
$70
Chrome Nails
$70

GEL NAILS

Gel Fill In
$30
Gel Full Set
$48
Tiger/Cat Eye
$70

OTHER NAILS

Nail Polish Change
$12
Toe Nail Polish Change
$18
Dipping Powder
$48

EYELASH ENTENSION

Cluster Lash
$30
Individual Fill In
$100
Full Set of Eyelash Extensions
$135

WAXING

Upper Lip
$8
Eye Brow
$12
Chin
$12
Face Wax
$40
Salon Hours
Disclaimer: Hours of operation may vary slightly from one location to the next. To confirm current hours, please contact your local salon.
| Day | Hours |
| --- | --- |
| Monday | 12:00pm – 7:30pm |
| Tuesday | 9:00am – 7:30pm |
| Wednesday | 9:00am – 7:30pm |
| Thursday | 9:00am – 7:30pm |
| Friday | 9:00am – 7:30pm |
| Saturday | 9:00am – 7:30pm |
| Sunday | 11:00am – 5:00pm |
Products Sold
Lee Nails does not normally offer full lines of products for the nails or the body, but you may be able to find some new nail polish colors at the beginning of each season or some specialty products that your nail technician may recommend.
In addition, you can also purchase gift cards for yourself or for family and friends at the front desk. These gift cards can be used on any nail salon appointment.
Company History
Lee Nails opened its first location over 20 years ago and has since grown into being a nationwide nail salon brand, similar to Regal Nails although nowhere near as big. Most salons are run individually so that they can maintain a friendly, neighborhood feel.
Since the inception of the brand, Lee has focused on sustainable and environmentally friendly products that they can feel confident in offering to their clients.
Thankfully, as more of these types of products have begun to be produced over the years, Lee has been able to offer even more options for creams, lotions and nail polishes to its clients.
Lee Nails is based in Chicago today but maintains a nationwide presence. The brand continues to grow and can be found in many urban and suburban areas where it reaches out to clients who long for a healthy, luxurious experience that they can feel good about choosing for themselves.
Lee Nails Links