Last Updated on March 17, 2022
Knockouts Haircuts for Men aims to give men a fantastic place where they can relax in an upbeat environment and get the hair care, shaves and other grooming services that they need to look their best.
Knockouts currently has over 50 locations around the country and has gone international in the past decade. With a premium placed on cutting-edge service and customer satisfaction, Knockouts boasts over 75,000 happy customers and over 5,000 five-star ratings.
It has also been featured on a variety of top national news outlets, including the Today Show, Fox News and MLB.com. Knockouts Haircuts prices start at $25 for a precision haircut and go up from there.
Why Choose Knockouts Haircuts?
Many men are looking for a different hair and skin care experience than they would find in the many other salon chains found in cities across America. Knockouts offers a truly different experience with an all-female staff, boxing ring decor and plenty of little items to make men come back for more.
When you arrive, you will be offered a drink to enjoy throughout your appointment. Where legally allowed, even beer is served. You can also enjoy watching the latest sports game on one of the many televisions found in each salon or can change the channel to your preference once you are at your hair care station.
All hair stylists and massage therapists are fully licensed females who are chosen for their warm and bright personalities that immediately set men at ease. These women are known as Knockout Girls, and each one dresses in a fun yet comfortable uniform designed to look like athletic apparel.
Knockouts is truly a fun place to be for men who are looking for a slightly different grooming experience. Walk-in customers are welcome, or men can book online to get the best appointment times for them.
See Also: Roosters Men's Grooming Pricing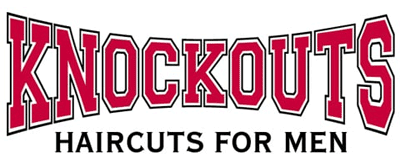 Services Offered
Knockouts Haircuts for Men offers a wide range of services designed to help you look and feel your best. Men can choose from traditional or modern haircuts, shaves, hair styling and coloring along with facials, waxing, massages, manicures and pedicures, which are offered at many locations. Each service is affordably priced while offering a luxurious experience.
You can choose from six different haircuts at Knockouts, which range from The Heavyweight to a simple mustache or beard trim. With The Heavyweight, you will receive a haircut in between two shampoo and scalp massage sessions along with a modern style.
Knockouts also offers less intensive experiences in The Middleweight and The Lightweight haircuts. The Uppercut is a close buzz cut while Golden Gloves is a haircut designed especially for children under the age of 12.
However, unlike the popular Sport Clips brand, Knockouts offers much more than just haircuts. Grooming services include quick gray-blending color services, all-over color, manicures, pedicures, and mini facials.
In many locations, you can also relax before or after your appointment with a deep tissue, hot stone, trigger point, or Swedish massage. You can also get rid of unwanted hair with waxing for your eyebrows, back, or chest.
See Also: How Much Should You Tip a Barber?
Knockouts Haircuts Price List
Disclaimer: Prices are for estimate only. The data has been gathered from various sources (online, on-site, and/or via phone). Pricing may vary from one location to another of the same salon brand or may not be current. Not all services available at every location. To confirm current pricing and services, please contact your local salon.
Service
Price

HAIRCUTS

The Heavyweight

Includes shampoo, haircut, 2nd shampoo, scalp massage, hot face towel, neck trim, and style.

$35
The Middleweight

Includes haircut, shampoo, scalp massage, and hot face towel.

$30
The Lightweight

Precision haircut (no frills)

$25
The Upper-Cut (Buzz Cut)

Includes all-over clipper cut, shampoo, scalp massage, and hot face towel.

$30
Golden Gloves

Precision haircut for ages 12 and under.

$20
Champion for a Day

Includes Heavyweight haircut, neck/shoulder massage, pedicure, manicure, and mini facial. (approx. 2.5 hours; tip included)

$180
Neck Trim
$5 & up
Beard/Mustache Trim
$10 & up

COLORING

Knockout Gray

Camouflage gray in 10 minutes.

$25 & up
Head Shots

Highlights for men.

$25 & up
All-Over Color

Cover up gray and get a whole new look.

$35 & up
Beard Color

Blend in your grays.

$15 & up

GROOMING

Fancy Foot-Work

Includes pedicure, foot massage, and paraffin foot treatment.

$50
Quick Hands

Quick trim.

$20
Quick Hands (Deluxe)

Includes manicure, hand massage, and paraffin hand treatment.

$35
Mini Facial

Relaxing face massage and hot face towel treatment.

$15
Wax (Eyebrows)
$15 & up
Wax (Chest)
$40 & up
Wax (Back)
$40 & up
Wax (Nose)
$10 & up
Wax (Ears)
$10 & up
Paraffin Treatment

Soothing wax therapy for hands and feet. Provides temporary relief for dry skin.

$10 & up

MASSAGE

30-Minute Swedish Massage
$45
60-Minute Swedish Massage
$65
60-Minute Hot Stone Massage
$75
60-Minute Deep Tissue Massage
$75
60-Minute Sports Massage
$75
60-Minute Trigger Point Massage
$75
90-Minute Hot Stone Massage
$110
90-Minute Deep Tissue Massage
$110
90-Minute Sports Massage
$110
90-Minute Trigger Point Massage
$110
Ringside Rub-Down

Chair massage.

$1 per Min.
Salon Hours
Disclaimer: Hours of operation may vary slightly from one location to the next. To confirm current hours, please contact your local salon.
| Day | Hours |
| --- | --- |
| Monday | 10:00am – 7:00pm |
| Tuesday | 10:00am – 7:00pm |
| Wednesday | 10:00am – 7:00pm |
| Thursday | 10:00am – 7:00pm |
| Friday | 10:00am – 7:00pm |
| Saturday | 10:00am – 6:00pm |
| Sunday | 11:00am – 5:00pm |
Products Sold
When your appointment is complete, be sure to check out products for sale near the front desk of most Knockouts Haircuts locations.
These products let you take expert care of your hair at home, lengthening the time between hair coloring appointments and giving you a modern or traditional style using hair gel, putty or other styling products.
All stylists and cosmetologists are more than happy to recommend products that will best meet your needs, including shampoos and conditioners, facial moisturizers, aftershave lotions and much more.
Company History
Knockouts Haircuts for Men was started by Tom and Karin Friday in 2003. The original idea was to create a place where all men could feel completely comfortable coming for a haircut or any other type of grooming. The Fridays also wanted a place designed specifically for a pampering experience that goes beyond what a traditional barber offers.
The first location in Addison, Texas, was originally staffed by only seven employees, one of whom still works for Knockouts. However, by 2004, Knockouts was sold to Jack Boyd who is the current franchisee.
Today, there are over 50 locations in 29 states around the country. Instead of focusing on opening as many locations as possible, Knockouts prefers to focus on creating the best possible experience for each dedicated customer.
What was once started as a partnership was changed to a limited liability company in 2008. Today, the headquarters of Knockouts is located in Irving, Texas. Tim Friday continues to serve as the CEO of the company while Karin Friday is the president.
Knockouts Haircuts for Men Links