Last Updated on June 14, 2022
*This article may contain affiliate links. This means that at no cost to you, we may earn a small commission for qualifying purchases.
When you hear the term barber, you probably think of the traditional red, white and blue-striped twirling pole posted outside most neighborhood shops.
Despite the fact that these signs of the trade date back hundreds of years, barbershops are still very much in vogue and can be found in almost any small or large town where hairdressers also work. In some very small towns, they may even exist without a nearby hairdresser present.
However, if you are trying to determine whether you should be visiting your local barber or should be finding a hairdresser instead, you will certainly want to know the difference between the two to make the best decision for your needs. Here's how to differentiate between a hairdresser vs barber.
See Also: 5 Signs of a Bad Hairdresser
Differences Between Barbers and Hairdressers
Barbers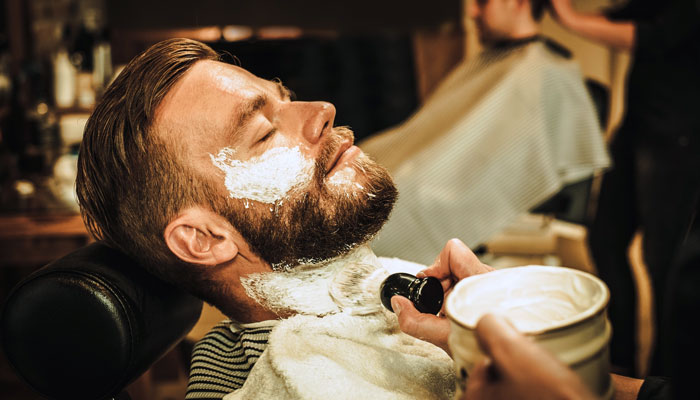 In general, barbers see mainly men and are highly trained in working with razors, clippers and scissors. For this reason, they typically perform a majority of short cuts. Although they may occasionally see women, many are not as adept in the newest styles or in dealing with longer tresses.
Very few barbers offer coloring or chemical services these days. However, most of them do work with mustaches, beards and other facial hair. Keep in mind that licensed barbers are the only professional hair care workers who are legally allowed to shave the face.
Most barbershops have a masculine environment to match with the desires of the majority of their clientele. You may see little in the way of decor, and reading material will be geared toward male interest. You'll see more types of combs than brushes.
You may also see televisions on and set to sports channels similar to what you'd see at Sport Clips (which is technically not a barber). Shops are usually smaller one-roomed establishments with clients sitting in swiveling chairs in front of mirrors. Some barbershops also provide such amenities as warm towels to aid in the experience.
Related: How Much to Tip a Barber (and Other Barbershop Etiquette)
Hairdressers
On the other hand, a hairdresser usually appeals to a majority of women because she can perform all types of trendy cuts, styles and coloring techniques (ie: balayage). While hairdressers still see male clients as well as children, they tend to gear their services toward women looking for very specific styles and customized hair services.
In addition, hairdressers are always able to provide more than one service in a single sitting, with many clients getting hair color, cuts, blowouts, or other treatments during the same sitting.
In some salons where hairdressers work, clients can even choose additional services to receive simultaneously, such as chair massages, manicures and pedicures. Unlike barbers, hairdressers may also learn makeup application techniques in school.
The environment at a hairdresser's salon is also different. Once again, it is geared more toward female clients with an emphasis on trendy or modern decor, plenty of current reading material and complimentary services, such as snacks and drinks, geared toward the needs of the clients.
See Also: Should You Get a Pixie Cut?
Is There a Difference in Training?
All barbers and hairdressers have lengthy training before becoming licensed. In fact, both types of stylists must complete approximately 10 to 12 months of education and a minimum of 1,800 hours of training.
Barbers must pass a written examination as well as a hands-on demonstration before becoming licensed by their states' Barbering Boards. In some cases, barbers may even be able to attain a master barber designation with years of experience.
Hairdressers must also typically take an examination along with a practical demonstration before licensure. Some hairdressers also like to get a cosmetology license to go along with the stylist license.
Should You See a Barber or a Hairdresser?
While men and women are welcome at both barbershops and hairdresser salons, you should consider your needs as well as the goals for your hair before making your decision.
If you are a man wanting a shorter or simplistic cut, either option should work well for you. Of course, a barber (whether independently owned or a chain like Roosters Men's Grooming) is the best option when it comes to trimming or shaving facial hair. However, if you are a man wanting a more elaborate or trendy cut, you should ask if the barber is able to accomplish this for you before making your appointment.
On the other hand, if you are a woman, you will most likely want to consider a hairdresser unless you want a very basic cut. A hairdresser will be able to provide you with a cut, color and other chemical services and has most likely mastered the most on-trend hairstyles.
Tips for Choosing the Right Stylist for You
Ultimately, the decision of which type of hair professional you visit is up to you. However, consider finding one you trust for your needs so that you can build up a long-lasting, friendly relationship. You may find that you enjoy returning to the same professional for years to achieve the perfect style for your facial features.
Also, keep in mind that finding a good hairdresser or barber is more important than the salon or barbershop. You may find a super talented hairdresser at a lower cost salon like Famous Hair but you can also find a bad stylist at a more expensive place like JCPenney Salon.
Another important tip is always to communicate with your stylist of choice. No barber or hairdresser can be faulted for getting your hair style wrong if you did not properly communicate what you wanted or let him know that you were not completely pleased with how your style looked.
Finally, always call the barbershop or hairdresser's salon before showing up to learn more about what services are offered there and what the stylist's specialties are. You may be surprised to find out all that your local barber can do or to discover just how many additional services you can try at the salon.