Last Updated on January 11, 2022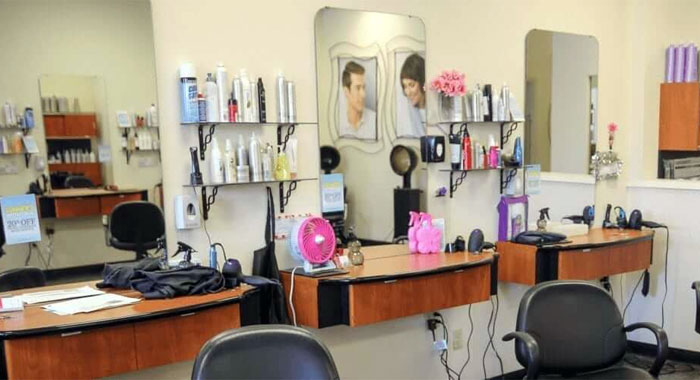 At HairMasters, you will quickly discover that the stylists truly are masters at their skill. When you visit one of the over 150 Hair Masters salons, you will quickly discover a dedication to styling mastery and an emphasis on amazing customer service that sets this brand apart from its competition.
HairMasters prices start at $25 for an adult haircut with shampoo.
Why Choose HairMasters?
HairMasters is the clear choice if you are looking for a salon chain that focuses on you as the customer. Instead of focusing merely on getting clients in and out of the chair as quickly as possible, each stylist has a desire to ensure that you leave happy with the haircut and style that you wanted.
Therefore, stylists will take plenty of time to give you a thorough consultation at the beginning of your appointment.
However, this dedication to customer service does not in any way take away from the fast appointment times that customers have come to love. There is no need for you to set up an appointment ahead of time here.
Typically, you will not need to wait at all to get right into a chair. In fact, you can bring your entire family from young to old, and you can all receive haircuts simultaneously.
Services Offered
As you would expect, HairMasters offers a complete lineup of haircuts, styling and other haircare services at each salon. Because prices and offerings are the same throughout the brand, you will feel as if you are stepping back into your regular salon no matter where you are in the United States.
Most clients start with a haircut or opt for a value-priced bundle of services, such as a cut with a color or style. However, you can also get special occasion hair styling here as well as a multitude of chemical services, such as hair coloring, highlights and toner.
Conditioning services are popular for smoothing and relaxing frizzy or dry hair. You can even get extensions and extension touchups if you are looking for longer hair.
Men can turn to services designed just for them, including clipper cuts and beard trims. Other popular services include blow outs, gray blending and facial waxing.
HairMasters Price List
Disclaimer: Prices above are for estimate only. The data has been gathered from various sources (online, on-site, and/or via phone). Pricing may vary from one location to another of the same salon brand or may not be current. To confirm current pricing, please contact your local salon.
Service
Price

HAIRCUTS

Adult Haircut (w/ Shampoo)
$25 & up
Adult Haircut (w/ Shampoo & Style)
$35 & up
Kids Haircut (12 & under)
$17.00 & up

OTHER SERVICES

Perms
$90 & up
Color
$75 & up
Highlights (Cap)
$80 & up
Highlights (Foil)
$100 & up
Waxing
$12.00 & up
Conditioning Treatment
$8 & up
Salon Hours
Disclaimer: Hours of operation may vary slightly from one location to the next. To confirm current hours, please contact your local salon.
| Day | Hours |
| --- | --- |
| Monday | 9:00am – 8:00pm |
| Tuesday | 9:00am – 8:00pm |
| Wednesday | 9:00am – 8:00pm |
| Thursday | 9:00am – 8:00pm |
| Friday | 9:00am – 8:00pm |
| Saturday | 9:00am – 6:00pm |
| Sunday | 10:00am – 6:00pm |
Products Sold
To keep your hair looking just as great as it does right after you appointment, consider adding salon-only haircare brands to your daily regimen.
These brands are used by salons for a good reason. They typically work far better than cheaper brands you can find in your local drugstore do.
Try It's a 10 products for smoothing your hair, or Sexy Hair products for adding volume. Such brands as Biolage, Paul Mitchell, Redken and Kenra offer full lines of products from shampoos and conditioners to daily styling and texturizing products.
Other popular brands include Biosilk, Joico and TIGI. With salon styling tools from Farouk and other top brands, you can straighten, curl and brush your hair to beauty.
However, if you are looking for something a little more budget-friendly, opt for the HairMasters brand, known as DesignLine, which is sold at all Regis-branded salons nationwide. DesignLine even offers a line specifically for men.
Company History
HairMasters has been a part of the Signature Style brand for years and is a part of the behemoth Regis Corporation which includes many popular brands such as Best Cuts and the Walmart hair salon chain Smartstyle.
While there were once more salons, HairMasters has downsized a bit in the past years to focus on their customers and on the continuing education of their stylists. The plan was to provide an even better and more satisfying experience for the customers they served.
Today, there are over 150 HairMasters salons in the United States. While they cannot be found in every state, you can find them from the West Coast, to the Upper Midwest and even to the Southeast.
When customers are asked why they continue to return to HairMasters, the answer is simple. Many customers are regulars who know exactly what to expect from their stylists. Even if their usual stylist is not in, the quality of service they receive from anyone else is just the same.
This dedication to excellence and this focus on personal relationships with clients has been a part of the brand from its inception and will continue to set HairMasters apart from the competition.
HairMasters Links