Last Updated on January 11, 2022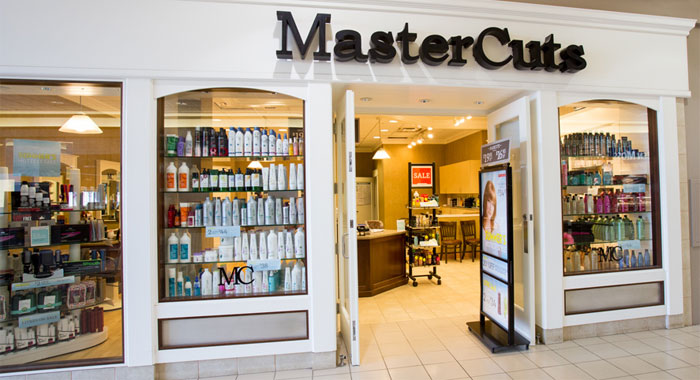 MasterCuts is the perfect place for you to experience a truly fabulous haircut at the hands of an expert stylist while also protecting your pocketbook. This is the perfect choice for busy, active families of all ages, including children and seniors.
MasterCuts prices start at around $20 for an adult haircut and go up from there depending on what services you choose.
With locations across the United States and Canada, there is bound to be one near you where you can experience traditional, retro or trendy styles at great prices.
Why Choose MasterCuts?
MasterCuts are often found in malls these days, making them perfect for families wanting to take care of all of their errands in one easy stop. MasterCuts makes it easy for families to do this, providing quick appointment times and offering appointment-free service.
In fact, many times, all members of the family can arrive simultaneously, get haircuts at the same time and be done quickly. This makes it perfect for families who already have too much on their plates.
However, MasterCuts does not chintz on the services that they provide. They truly are masters at their work, offering complimentary consultations to all their clients and staying up-to-date with hair trends.
In fact, you can even get some of the trendiest chemical hair treatments here, including balayage and ombre tones.
The atmosphere at all MasterCuts is relaxed, clean and professional, immediately setting you at ease. You will be able to keep track of what your stylist is doing throughout your appointment while you are seated in front of a mirror.
Services Offered
Haircuts are the obvious prime service here, with options for men, women and children. Children get the benefit of discounted prices for cuts and styles.
Men can also choose clipper cuts or beard trims, and women can get their bangs dusted before their next appointments for a very low price.
MasterCuts also offers a full list of specialty services, such as blow outs, special occasion hairdos, updos and deep conditioning treatments. You can also choose perms, relaxers and retexturizing treatments to get a natural or a sleek and shiny look.
If you are looking for something totally different, opt for hair color with permanent, demi or semi coloring. You can also choose mini, partial or full highlights with foils, balayage, ombre and gray coverage.
For a little extra to help you look your best, choose facial or brow waxing to remove unwanted hair.
MasterCuts Price List
Disclaimer: Prices above are for estimate only. The data has been gathered from various sources (online, on-site, and/or via phone). Pricing may vary from one location to another of the same salon brand or may not be current. To confirm current pricing, please contact your local salon.
Service
Price

HAIRCUTS

Adult Haircut
$20
Adult Haircut (w/ Shampoo)
$24
Kids Haircut (12 & under)
$15
Kids Haircut (w/ Shampoo)
$18

ADDITIONAL SERVICES

Highlights
$35 & up
Color
$55 & up
Perm
$60 & up
Blow Dry Styling
$11
Conditioning Treatment
$10
Facial Waxing
$11
Salon Hours
Disclaimer: Hours of operation may vary slightly from one location to the next. To confirm current hours, please contact your local salon.
| Day | Hours |
| --- | --- |
| Monday | 10:00am – 9:00pm |
| Tuesday | 10:00am – 9:00pm |
| Wednesday | 10:00am – 9:00pm |
| Thursday | 10:00am – 9:00pm |
| Friday | 10:00am – 9:00pm |
| Saturday | 10:00am – 8:00pm |
| Sunday | 11:00am – 7:00pm |
Products Sold
MasterCuts sells a wide range of hair care products to help you get your hair just as beautiful at home as it was after your salon appointment. From brushes and electrical tools to shampoos, conditioners and styling aids, you can find it all on the shelves of your new favorite salon.
Tools from The Wet Brush and Farouk let you make fast work of styling your hair on your busiest days. Products for a wide range of hair care needs are provided by salon-only brands, such as Sebastian, TIGI, Pureology and Nioxin.
If you need help choosing the best option for you, simply ask your stylist for recommendations.
Company History
MasterCuts began in 1985 as a part of the Regis family. It was started to fill a unique role in Regis's already impressive lineup of salons.
MasterCuts was designed to appeal to active individuals and busy families who were interested in getting quick haircuts at powerfully low prices, making them a direct competitor to Supercuts.
It sought to build on a legacy of traditional styles and professional care. The brand gained great momentum because it met people where they already were, which was in the busy shopping malls across the country.
In 2017, The Beautiful Group, an affiliate of Regent, purchased the MasterCuts brand. In the same deal, The Beautiful Group also took ownership of many Regis Salons. All told, The Beautiful Group now owns and operates over 858 MasterCuts and Regis Salon locations.
Today, there are hundreds of MasterCuts across the country as well as in Canada and Puerto Rico. While most of them are found in enclosed malls, some are also found in strip malls in the suburbs.
MasterCuts Links