Last Updated on May 27, 2022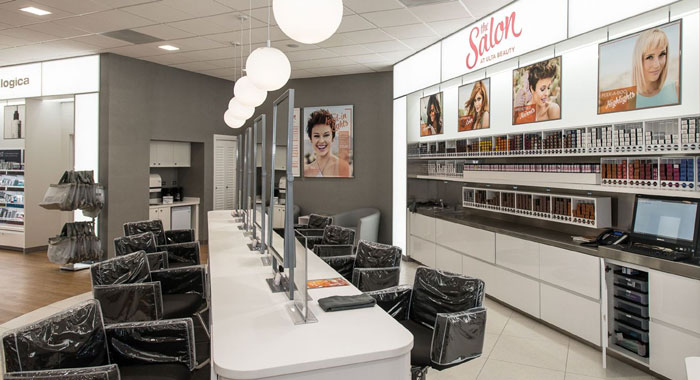 Ulta Beauty is a mid-range to high-end grouping of cosmetics and beauty supply stores, each of which has a salon included.
With over 1,100 stores currently located around the United States, Ulta is a growing brand that appeals to customers who want premium services in a more luxurious environment than they might find at other lower-tier chains.
Ulta Salon prices start at about $45 for an adult haircut and $25 for a kids haircut.
Why Choose Ulta Salon?
Each Ulta Salon is located within an Ulta Beauty store and usually takes up 10 percent of the space. Therefore, customers can get their beauty shopping done while they also get their hair cut and styled.
Each store is clean and well-lit and carries a variety of mid-range and premium brands for makeup, fragrance, skin care, hair care and more. This one-stop shopping and service format appeals to many adults who are busy and who do not have the time to travel around town.
Ulta is also known for its amazing stylists. Because of the slightly higher prices than can be expected at other lower-end salons, stylists have plenty of time for full consultations with their clients.
They can take the time to discuss cuts, styles, hair care and colors to give a truly personalized experience.
Also Consider: JCPenney Salon
Ultamate Rewards also make purchasing products and services at Ulta a wise decision. Points eventually add up to great rewards and free beauty products.

Services Offered
Ulta Salons offer a full range of hair and beauty services at each location. While hair cuts and styling may be the most popular choices for the majority of clients, perms, colors and texturizing services are also popular.
Each visit begins with a full one-on-one style consultation. Stylists can also do special occasion hairdos. Other hair services include blowouts, steam infusions, bang trims, clipper cuts for men and keratin treatments
Skin care appointments can include face mapping with a skin therapist who will teach clients how to best care for their skin. Facials and microdermabrasion are other great solutions for such skin concerns as oiliness and aging.
At the brow bar, customers can get brow or facial waxing, brow tinting and lash extensions for natural or full brows. Nail care is done with OPI gel colors.
See Also: 7 Convincing Reasons to Stop Wearing Makeup
Ulta Salon Price List
Disclaimer: Prices above are for estimate only. The data has been gathered from various sources (online, on-site, and/or via phone). Pricing may vary from one location to another of the same salon brand or may not be current. To confirm current pricing, please contact your local salon.
Service
Price

HAIRCUTS

All haircuts include shampoo, conditioner, scalp massage, and blowdry unless otherwise states.

Clipper Cut

Haircut using clippers for an ultra-short design.

$30 & up
Haircut

Haircut, trim, or shape.

$45 & up
Signature Haircut

Haircut, trim, or shape with customized deep conditioning treatment.

$55 & up
Kids Haircut (10 and under)
$25
Bang or Neck Trim
$12

HAIR COLOR

All color services include shampoo, conditioner, scalp massage, and blowdry.

All-Over Color

An all-over application of a single hair color from roots to ends.

$80 & up
Multi-Tone Hair Color

Achieve a multi-dimensional effect with an all-over application of multiple colors.

$90 & up
Gloss

Add shine & tone with an all-over color application of demi-permanent hair color.

$60 & up
Full Root Touch-Up

An application of hair color to the root area only.

$60 & up

HIGHLIGHTS OR BALAYAGE

Accent Highlight

Foil or balayage highlights on a small area of the head (up to 10 foils).

$80 & up
Area Highlight

Foil or balayage highlights on half the head.

$115 & up
Full Highlight

Foil or balayage highlights on entire head.

$140 & up
Root Blend (for highlights)

Soften the contrast between natural hair color at the root area during or between a highlighting service.

$45

SPECIALTY HAIR COLOR

Total Blonde

An all-over or root touch-up application of lightener to achieve the perfect shade of blonde.

$105 & up
Partial Root Touch-Up

A mini root retouch focused on the front hairline and part line areas only.

$52
Gray Blending

An all-over color application of Redken for Men Color Camo to blend gray hair.

$42
Color Correction (price per half hour)

Includes any and all color services needed to correct and complete the desired look. Charged in half-hour increments.

$45 & up

TEXTURE

All texture services include shampoo, conditioner, and blow dry.

Keratin Treatment

Reduce curl and frizz with a smoothing treatment powered by Keratin Complex to provide temporary curl and frizz reduction for up to 12 weeks.

$240 & up
Texture Wave

Add curl to hair with a permanent wave.

$105 & up
Relaxer

An all-over or retouch application of relaxer to permanently straighten the hair.

$95 & up
Area Keratin, Wave, or Relaxer

A texture wave, relaxer or keratin treatment on a specific area of the head, such as the bang or nape area.

$75 & up

STYLING

All styling includes shampoo, conditioner, and scalp massage unless otherwise stated.

Curling or Flat Iron

Curl or straighten the hair by use of a flat iron, curling iron or wand on dry hair. Shampoo, conditioner and blow dry not included.

$35
Blowout

Achieve the style of your choice along with a shampoo, conditioner, scalp massage and customized blow dry.

$50
Shampoo Press/Wrap & Curl

Smooth the hair by means of drying/wrapping and pressing smooth with a pressing comb and/or flat iron. Shampoo, conditioner, scalp massage and blow dry included.

$70
Formal Style

Event styling that includes any combination of curls, twists, pin-ups or braids on dry hair. Shampoo, conditioner and blow dry not included.

$85
Braids, Twists, & Locs (price per half hour)

Advanced styling methods such as full head braids charged in half-hour increments. Shampoo, conditioner, scalp massage and blow dry not included.

$60

TREATMENT FOR HEALTHY HAIR

Clarifying Treatment

Removes unwanted product and mineral buildup such as chlorine.

$25
Deep Conditioning Treatment

Adds any combination of color protection, strength, moisture or volume to the hair.

$25
Scalp Renew Treatment

Exfoliate the scalp with this rejuvenating treatment that removes buildup, improves hair growth, reduces hair loss & prevents breakage.

$25
Damaged Hair Restorative Treatment

Turn back time with a professional restoration service for damaged hair. Redken Heatcure harnesses the power of heat to allow the unique treatment formula to penetrate deep into the cuticle of the hair to restore the hair's healthy look and feel.

$35
Anti-Damage Color Additive

Prevent damage and protect your hair during a color service (Redken pH-Bonder).

$25
Repair & Protect Treatment

Two of our most popular treatments combined for Ulta-mate hair health. Featuring an Anti-Damage Color Additive and our Damanged Hair Restorative Treatment.

$45

EXTENSIONS

Set up a consultation to let our experts help you determine the best extensions for your hair. Whether you are looking to add volume, length or hair color,the possibilities are endless!

SKIN TREATMENTS

10-Minute Express Facial

Your quick fix for flawless skin featuring the latest skincare products and trends.

$15
20-Minute Brow Lift

Look years younger in minutes with this non-invasive and instant eye and brow lift.

$30
20-Minute Mineral Infusion

Infuse the skin with oxygen and serums to yield immediate, visible results. Skin texture is refined and wrinkles are smoothed.

$32
20-Minute Facial

Customized skin solutions to be blemish free, reduce wrinkles or achieve a luminous glow.

$35
30-Minute Facial

Indulge a little longer with this customizable treatment designed to solve your top skin concerns.

$55
30-Minute Ultamate Skin Resurfacing

Fueled by ProPower Technology - Customized and powerful chemical exfoliation designed to brighten, refine tone, reduce blemishes and reveal your healthiest skin.

$75
30-Minute Microdermabrasion

A safer,more natural method of microdermabrasion powered by DermaRadiance and natural flower grains of rose, lavendar and tea tree.

$75
60-Minute Customized Facial

Personalized facials include deep cleansing, exfoliation and intense hydration for visible results. Designed for all skin conditions, your licensed skin therapist will customize the treatment just for you.

$75
90-Minute Ultamate Facial

Our 90 Min. Customized Facial enhanced with your choice of Microdermabrasion for Smoother Skin, or a relaxing Hand or Eye Treatment to Revitalize.

$110

MAKEUP & LASHES

Complimentary Touch-Up

Complete your service with this quick touch up or pop in and meet with an available service professional or retail beauty advisor to try something new.

Free
Makeup Lesson

This informative and interactive hands on experience is designed to educate you to achieve the look you've always wanted such as the perfect smoky eye.

$35
Everyday Makeup Application

Put your fresh face forward. This make up application will have you looking your best.

$55
Formal Makeup Application

A make up application that includes enhanced make up techniques for a more dramatic look for those special moments...whether you are attending prom, walking the red carpet, or walking down the aisle. Add on strip lashes for $10.

$75
Strip Lashes

Lashes in a flash! We'll apply your same-day purchase of lash strips for a quick and temporary lash enhancement.

$15
Cluster Lashes

For a longer-lasting look, we'll apply your same-day purchase of semi-permanent flair or cluster lashes across the eyelid. This does not include any application of permanent lash extensions.

$37
Lash Extensions (full set)

Lightweight and long-lasting, this look will keep you coming back for more.

$220
Lash Extensions (refill)

Keep your lashes looking their best with a quick refresh to fill any spots where the eyelashes have shed. For optimal results, we recommend every 2 weeks.

$60
Lash Extensions (removal)

Professional removal of permanent eyelash extensions.

$30

BROW SERVICES

Brow Wax
$28
Brow Tint
$25
Brow Wax & Tint
$42
Brow & Lip Wax
$40
Individual Lashes (half)
$15
Individual Lashers (full)
$20
Non-Benefit Strip Lash
$13
Salon Hours
Disclaimer: Hours of operation may vary slightly from one location to the next. To confirm current hours, please contact your local salon.
| Day | Hours |
| --- | --- |
| Monday | 9:00am – 11:00pm |
| Tuesday | 9:00am – 11:00pm |
| Wednesday | 9:00am – 11:00pm |
| Thursday | 9:00am – 11:00pm |
| Friday | 9:00am – 11:00pm |
| Saturday | 9:00am – 11:00pm |
| Sunday | 9:00am – 10:00pm |
Sample Products Sold
It is not just hair care products that customers can buy at Ulta once their salon appointments are completed. Ulta offers a full range of cosmetics, fragrances, skin care products, hair care products and beauty tools from a wide range of brands at every location.
Whether customers are looking for gifts or for new colors for the season, Ulta has nearly anything one could think of for bath, body and beauty. All products can also be purchased online.
Ulta Beauty offers many popular brands, including the ever-popular MAC Cosmetics. Other favorites include NYX, Urban Decay, Clinique, Tarte and Biosilk.
Ulta also sells its own line, known as the Ulta Beauty Collection, which includes products in the makeup, nail care, skin care, hair care, fragrance and bath and body lines. Bestsellers include their makeup brushes, lip oils, hair smoothies and brow tints.
Company History
Ulta Salons began in 1990 when Richard E. George launched the original Ulta Beauty brand. Since then, many of the chief operative officers have changed, but the mission and look of the brand and store style has remained consistent.
These days, it still reflects the founder's original dream, which was to be able to offer both high-end and low-end products in the same store.
Today, there are over 1,100 Ulta Beauty stores located in 49 states as well as the District of Columbia. Each store has a salon that offers a full array of personalized hair and beauty experiences. The more than 21,000 employees include numerous educated and experienced stylists who provide premium services in the open salon environment.
See Also: Regis Salon Prices
Ulta Beauty has been a publicly traded company for years with over 4 billion in revenue each year. It remains a strong presence in the salon business and is especially strong along the East Coast and in California where a majority of its locations are situated.
However, its headquarters remain located in Illinois where the current COO, Carb Rubin, is known as one of the highest paid individuals in the Chicago area.
Ulta Salon Links