Last Updated on January 11, 2022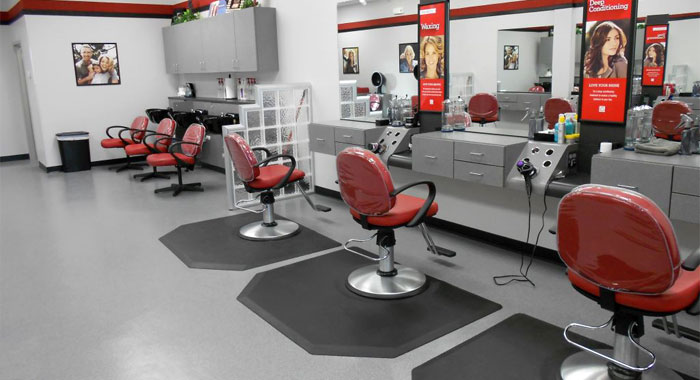 Cost Cutters is a family hair salon that does exactly what its name implies. At this chain of salons, you will find great haircuts and other hair treatments at prices that are cut back greatly from those you would find at other mainstream salons.
With well over 800 locations across the country, you can easily find this basic but professional salon in your neighborhood.
Cost Cutters prices start at around $19 for and adult haircut and may vary by location.
Why Choose Cost Cutters
Cost Cutters is the smart and obvious choice if you are looking for an affordable, budget-friendly salon that is perfect for the haircare needs of your entire family. From young to old, all can find great haircuts and hair stylings provided by experienced and knowledgeable stylists here.
Because this is an affordable salon, you will notice that salons appear rather simple, giving the look of a clean, open environment.
However, the setting is calm and relaxed, and the environment is warm. You can try it out for yourself simply by walking into any salon and requesting an immediate appointment. No appointments are required.
You may be surprised to find out just how many services Cost Cutters offers. You can experience quality haircuts, deep conditioning treatments, full color or highlighting services and even specialty salon services to help you feel and look your best.
You can relax here, knowing that you are in the hands of experts and that your wallet will thank you when you are finished.

Services Offered
Adult haircuts are the most popular services chosen at Cost Cutters. These can be combined with a full array of shampoos and stylings or can be performed on their own.
Men can receive quick clipper cuts, and men and women can constantly look polished with beard or bang trims in between appointments. Children's cuts come at even more affordable prices.
If you are looking for a different color, texture, or perm style for the new season, you have definitely come to the right place. Cost Cutters offers a full range of chemical services, including all-over color, toner, cap highlights and full or partial foils.
Corrective color is also available to cover grays or to change colors dramatically. Of course, every appointment begins with a consultation so that your stylist knows exactly what you want.
Cost Cutters also provides other salon-only services, including facial waxing for the eyebrows and lips. Some salons also provide single, multiple or all-month tanning sessions.
Cost Cutters Price List
Disclaimer: Prices above are for estimate only. The data has been gathered from various sources (online, on-site, and/or via phone). Pricing may vary from one location to another of the same salon brand or may not be current. To confirm current pricing, please contact your local salon.
Service
Price

HAIRCUTS

Adult Haircut
$18.95
Kids Haircut (12 & under)
$14.95

STYLING & FINISHING

Shampoo & Condition (w/ haircut)
$25 & up
Shampoo & Style Finish (w/ haircut)
$32 & up
Shampoo & Style Finish
$17 & up
Deep Conditioning
$14 & up
Beard Trim
$7 & up
Bang Trim
$7 & up
Updo
$45 & up

COLOR & PERM

Perm prices include haircut.

Color
$55 & up
Foil Highlights
$75 & up
Cap Highlights
$55 & up
Perm (short hair)
$70 & up
Perm (medium hair)
$80 & up
Perm (long hair)
$90 & up
Spiral/Specialty Wrap
$105 & up
Relaxers/Retouch
$55 & up

WAXING

Eyebrows, Lips, or Chin
$11 & up
Facial
$11 & up
Salon Hours
Disclaimer: Hours of operation may vary slightly from one location to the next. To confirm current hours, please contact your local salon.
| Day | Hours |
| --- | --- |
| Monday | 9:00am – 8:00pm |
| Tuesday | 9:00am – 8:00pm |
| Wednesday | 9:00am – 8:00pm |
| Thursday | 9:00am – 8:00pm |
| Friday | 9:00am – 8:00pm |
| Saturday | 9:00am – 6:00pm |
| Sunday | 10:00am – 6:00pm |
Products Sold
Although Cost Cutters certainly sells a variety of salon-only hair care brands, they focus on their own line from the Regis Corporation, known as DesignLine. DesignLine products offer salon-quality results at a fraction of the price.
Whether you need volume, frizz control, basic cleansing, ultra moisturization or color care, this brand has shampoo and conditioning products for your needs.
They also offer a full line of styling aids, including hairspray, heat protectant spray, texturizing creams, gels and curl care products.
You can also shop for your favorite salon brands at Cost Cutters. Some favorites include Sexy Hair, Biolage, Paul Mitchell, Redken, Farouk and Kenra.
Company History
Cost Cutters history began in the 1970s with Joe Francis who began the Barbers Hairstyling for Men Salon. While his initial offerings were geared towards men, he quickly discovered the benefits of working with women's hair as well.
Related: Barber vs Hairdresser (What's the Difference?)
In the next five years after opening, he began offering services for both men and women, and he opened the first Cost Cutters.
Originally a family-owned brand, Cost Cutters quickly excelled in the Minnesota area where they first opened. In fact, 12 salons opened in the first year of operations.
Within a few years, the number of salons numbered in the hundreds. Cost Cutters boasts over 800 salons in the United States today with many of them operating in the Midwest where they were initially based.
Today, Cost Cutters is no longer family owned but is a part of the Regis brand of salons, which also includes such well-known salons as Fiesta Salons and Hairmasters.
It remains based in the Twin Cities of Minnesota. With such a well-known name behind it, Cost Cutters is sure to continue succeeding in the upcoming decades as well.
Cost Cutters Links