Last Updated on January 6, 2022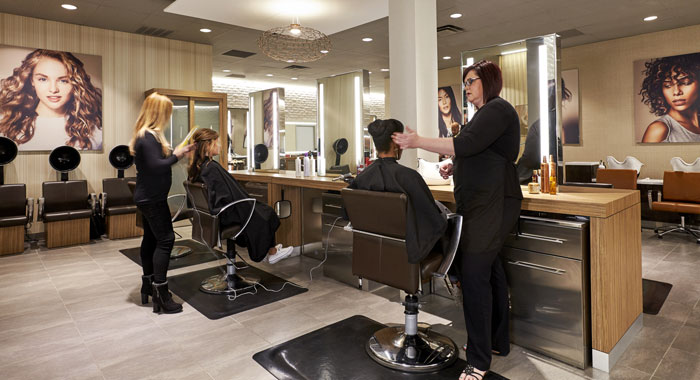 Known mainly as an empire for clothes and home goods, JCPenney is also a well-known salon brand. Many of the larger JCPenney stores offer salons within their stores for an easily combined shopping and haircare experience for men, women and children.
The salons are warm and cozy, and they offer many signature, high-end services for complete styling.
JCPenney salon prices start at about $25 for an adult Express Cut haircut and go up from there.
Why Choose JCPenney Salon?
JCPenney Salons are easy choices for individuals who already shop at this well-known brand. These stores are often easy to find with around 750 salons located across the United States.
Many of them are conveniently found in indoor or outdoor shopping malls or as anchor stores in major shopping districts. Many view Ulta and Regis salons as direct competitors.
Another good reason to choose a JCPenney Salon is that it offers premium services. While this style of services commands a higher price than what one might find at a lower-end chain hair salon, customers love the individualized service that matches hair cuts and styles to their personal preferences and natural looks.
The stylists are all well-trained and most say they're well worth the prices charged.
Customers who are unsure of what they want to have done but who know that they want a bit of primping will fit right in at this salon brand because the stylists provide plenty of trendy, traditional and unique styles or can match styles to pictures.
Appointments are recommended to ensure that customers get the time and stylist that they want.

Services Offered
JCPenney Salons are most often chosen for their hair care services, but this is not all that they can do. Nail services are also popular here because the customers can get two important appointments out of the way at the same convenient location.
However, the most popular appointments are certainly the ones for haircuts, blowouts, perms, hair treatments and coloring services. A haircut can be added cheaply to any other hair color service or can be performed by itself.
Bang trims and neck trims are complimentary. Signature blowouts let customers look their best with straight hair, curly locks or beachy waves. Single process color is a great way to get a new look for the season, and toner can be added if needed.
Ombre, balayage and multi-dimensional highlights add depth and dimension to the hair. Other services include relaxers, hair extensions, clarifying and conditioning treatments and natural styling.
See Also: Different Type of Perms
JCPenney Salon Price List
Disclaimer: Prices above are for estimate only. The data has been gathered from various sources (online, on-site, and/or via phone). Pricing may vary from one location to another of the same salon brand or may not be current. To confirm current pricing, please contact your local salon.
Service
Price

HAIRCUTS

Haircut & Blowdry
$40 & up
Express Cut
$25 & up
Clipper Cut
$20 & up
Kids' Haircut (12 and under)
$20
Add Haircut to any Service
$20 & up
Bang or Neck Trim
$10 & up

FINISHING TOUCHES

Basic Blowout

Shampoo and blowdry w/ brush

$35 & up
Ironworks

Flat iron or curling with service

$10 & up
Styling
$55 & up
Shampoo & Set
$30 & up
Accent Braid
$10 & up

SIGNATURE BLOWOUTS

Includes: Signature shampoo service, scalp massage, hot towel, and styling

The City Sleeker

Sleek and shiny

$40 & up
The Cosmopolitan:

A tousled look with movement and volume

$40 & up
The Sexy Beach

Beachy waves to frame the face

$40 & up
The French Quarter

Cascading curls

$40 & up

COLOR

Single-Process
$65 & up
Double-Process

Bleach and tone

$95 & up
Glossing

Performed following chemical service to add intense shine

$20 & up
Temporary Color Rinse
$10 & up
Root Blend/Touch Up
$45 & up
FHI Heat Neobond

An insurance policy for your hair. This 3-step system is recommended with any chemical services to prevent damage.

$20

COLOR HIGHLIGHTS

Foil
$90 & up
Partial Foil

Up to 12 foils

$55 & up
Accent Foil

Up to 4 foils

$25 & up
Cap Highlight
$75 & up
Dimensional Color

2 or more colors to create a unique, multi-dimensional look

$105 & up
Ombré

Coloring technique with gradual fading of color from dark to light (or vice versa)

$105 & up
Balayage

Freehand technique of applying highlights or lowlights, with select pieces of hair receiving the color enhancement

$105 & up

HAIR TREATMENTS

Moisture Loss

Mizani Custom Blend or Humecto Deep Conditioning

$20
Breakage & Strength Loss

Collectives Penetraitt Deep Conditioning or Mizani Custom Blend

$20
Color Treated

Hair Recovery by Redken

$20
Dry Scalp & Dandruff

Mizani Custom Blend & Scalp Tonic

$35
Dry Scalp & Dandruff

Dry Scalp Tonic

$20
Clarifying

Malibu Wellness Intensive Clarifying

$20

SMOOTHING SERVICES

Professional Blowout (Smoothing)
$199 & up
Professional Blowout (Curl Enhancing)
$129 & up
Natural Keratin Complex Smoothing
$279 & up

RELAXER

Relaxer
$70 & up
Relaxer (w/ color)
$115 & up
Retouch (up to 1")
$55 & up

PERMS

Basic Weave
$70 & up
Specialty Weave
$90 & up
Partial Weave
$50 & up

HAIR EXTENSIONS

Preliminary consultation is required. Cost of hair extensions additional. Price and time quoted at consultation.

NATURAL STYLING

Shampoo & Diffuse
$30 & up
Corn Rows
$30 & up
Wrap Set
$26 & up
Bantu Knots
$50 & up

LOCS

Loc Maintenance
$50 & up
Loc Styling
$50 & up

SPECIALTY WITH EXTENSIONS

Kinky Twist
$120 & up
Rope Twist
$150 & up
Micro Braids
$200 & up

SETS & TWISTS

Press & Curl
$60 & up
Shampoo Services

With two-strand twist or flat twist set

$60 & up
Single Twist

Combo twist

$60 & up
Double Twist

Two strand

$60 & up
Straw Set
$60 & up
Rod Set
$60 & up
Spiral or Pencil Curl
$60 & up
Salon Hours
Disclaimer: Hours of operation may vary slightly from one location to the next. To confirm current hours, please contact your local salon.
| Day | Hours |
| --- | --- |
| Monday | 10:00am – 9:00pm |
| Tuesday | 10:00am – 9:00pm |
| Wednesday | 10:00am – 9:00pm |
| Thursday | 10:00am – 9:00pm |
| Friday | 10:00am – 9:00pm |
| Saturday | 10:00am – 9:00pm |
| Sunday | 12:00am – 7:00pm |
Products Sold
JCPenney Salons also sell a variety of haircare and skincare products within their salons. Styling tools are popular purchases for customers wanting great blowouts, curls or sleek, straight hair in the comfort of their own homes. JCPenney carries top brands such as CHI, Paul Mitchell and Hot Tools.
Customers can also pick up shampoo (regular or dry shampoo), conditioner and styling products at the salon in a variety of brands, including salon exclusives, such as Redken, Tea Tree, Matrix, Onesta, Sexy Hair and Sebastian.
JCPenney caters to people who have special hair concerns, such as color-treated hair, dry or oily hair and aging hair with products specially created to transform these locks and make them perfectly healthy.
Of course, because all JCPenney Salons are located within JCPenney stores, clients will also be able to shop for clothing, home goods and even Sephora makeup depending on the exact location.
See Also: 7 Benefits of Not Wearing Makeup
Company History
JCPenney Salons are the brainchild of an ever-expanding JCPenney Company that was attempting to corner the market on a variety of types of services and goods.
JCPenney originally began in 1902, and is among the oldest retail stores that still exist. Over the years, the brand melded and changed to match current demands. That is why it eventually added salon services to many of its stores.
Today, JCPenney has approximately 750 salons throughout its nation-wide stores with thousands of dedicated and knowledgeable stylists working in its salons.
The stylists are known for their dedication to excellence and their belief that customer satisfaction and premium services are the way to keep customers coming back regularly to the salon.
Over the past several years, many of the JCPenney Salons have transformed into The Salon by InStyle, which adds an even more luxurious experience for customers. These rebranded salons have trendier graphics and signage with modern furnishings. Customers can also now schedule appointments online for ease.
JCPenney Salon Links