Last Updated on September 19, 2023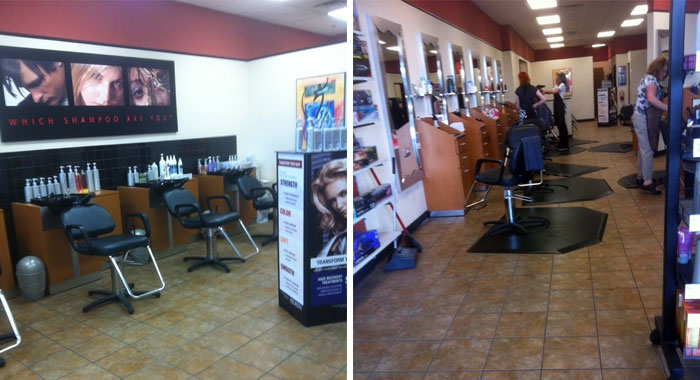 Fiesta Salon offers you a neighborhood haircare experience that comes across as friendly, personable and professional. Once you stop into one of the nearly 100 Fiesta locations, you will be sure to come back to experience more of their premier services at incredibly low prices.
With a full range of services provided by professionally trained stylists, you can rest assured that you will end up with just the style that you wanted every time you walk out Fiesta's doors. Fiesta Salon prices start at around $22 for a basic haircut and go up from there.
Why Choose Fiesta Salon?
Fiesta Salon is a great choice for adults and children of all ages who value great hair styles along with incredibly low prices. With so many salons to choose from in every city these days, it can be difficult to know where one can turn for trustworthy haircare services provided by well-trained professionals.
Fiesta makes that choice simple. Located in many suburban areas throughout five Midwestern states, these salons are always easily accessible. Because Fiesta Salon is a part of the prestigious Regis Corporation, every stylist is held to incredibly high standards.
Regis ensures that each stylist goes through intensive training before ever working in one of its salons. The corporation also sets stylists up for continued success by insisting on regular training and education on new styles and haircare techniques.
Whether you want a totally new look or simply need a quick trim, Fiesta has you covered with plenty of walk-in appointments seven days per week at every location. You can also call ahead and make an appointment if you wish to see a particular stylist.
Services Offered
Fiesta Salon mainly focuses on haircare services, with most clients coming in for haircuts or trims. They provide traditional and trendy cuts for men and women as well as discounted cuts for children. Be sure to finish off your experience with a styling service or a blowout.
You can also enjoy hair coloring services here, with many stylists providing the trendiest options, such as flashes and balayage, depending on the exact location. For more volume, try a perm instead.
Fiesta also offers several additional salon services, including waxing and tanning. Facial waxing can help you get rid of those tiny, unwanted hairs around your brows or lips.
To get ready for the summer or for a special event, use the tanning beds offered at some locations, or save even more money with a monthly tanning bed package.
Fiesta Salon Price List
Disclaimer: Prices above are for estimate only. The data has been gathered from various sources (online, on-site, and/or via phone). Pricing may vary from one location to another of the same salon brand or may not be current. To confirm current pricing, please contact your local salon.
Service
Price

HAIRCUTS

Men's Haircut
$22
Women's Haircut
$22
Children's Haircut
$14

OTHER HAIR SERVICES

Blowout
$19
Perm
$55 & up
Hair Coloring
$65 & up
Bleaching
$75 & up

TANNING & WAXING

Tanning Bed Session
$8
Monthly Tanning Bed Package
$50
Waxing
$14
Salon Hours
Disclaimer: Hours of operation may vary slightly from one location to the next. To confirm current hours, please contact your local salon.
| Day | Hours |
| --- | --- |
| Monday | 9:00am – 8:00pm |
| Tuesday | 9:00am – 8:00pm |
| Wednesday | 9:00am – 8:00pm |
| Thursday | 9:00am – 8:00pm |
| Friday | 9:00am – 8:00pm |
| Saturday | 9:00am – 6:00pm |
| Sunday | 11:00am – 5:00pm |
Products Sold
Every Fiesta Salon sells a variety of favorite hair care products from the Regis brand as well as from a variety of premier salon brands.
You can find everything from shampoo and conditioner to hair putty and styling creams at every location, and your stylist will be glad to help you pick just the right option for you after your appointment. In fact, Fiesta often offers discounts on styling products with certain services.
The DesignLine brand is owned by Regis, but it offers most clients superb results at a fraction of the cost. DesignLine offers haircare solutions for all types of common problems, including dry hair, limp hair, and overly processed strands.
You can also shop for your favorite salon-only brands, including Sexy Hair, TIGI, Sebastian, Biosilk, American Crew, Redken, Kenra, and more. Choose the value-sized liter bottles sold in sets for the best discounts.
Also, be sure to shop for premium styling tools, such as curling irons and straighteners, and ask your stylist for tips on how to use them before heading home.
Company History
Each Fiesta Salon is a part of the Signature Styles brand, which is owned by the powerful Regis Corporation. Although the Regis Corporation is large, each of its salons (such as Supercuts and BoRics) has not lost the personal touch that clients crave these days. Therefore, Fiesta has managed to retain a neighborhood feel in each suburban area where a salon is located.
After its humble beginnings in 1973, Fiesta Salon now boasts nearly 100 salons located throughout five states, including Ohio, West Virginia, Michigan, Kentucky, and Indiana.
Fiesta's parent brand, Regis, has existed since 1922, when it was opened as the Kunin Beauty Salon. It quickly grew and was renamed Regis in 1958 when the son of the founders took over the brand.
In the 1990s, Regis grew rapidly, acquiring increasing numbers of franchises. It experienced another period of great growth in 2006 when it took over Sally Beauty Company. Today, over 10,000 Regis-branded salons and franchises are located around the world.
Despite the size of its parent brand, each Fiesta Salon retains its friendly, welcoming feel. Focusing on both traditional and modern hairstyles, the brand continues to prove that it puts its clients first through its focus on well-trained, professional stylists and a customer-centric culture.
Fiesta Salon Links