Last Updated on September 19, 2023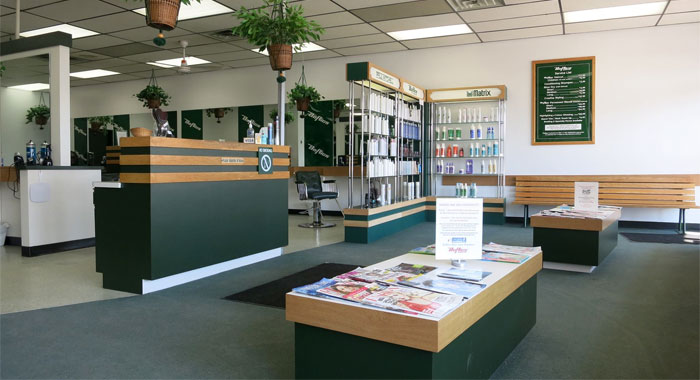 If you're looking for basic haircare at a budget-friendly price and don't have the time to wait for an appointment a few days away, BoRics is the salon for you.
Although this chain offers great discounts for customers who love to score bargains, it still gives you high-quality hair care that you can feel proud to show off at even the trendiest locations.
Whether you need a quick trim in between errands, a new hair color before a special event or some expert advice for styling your hair, start with the professionals at BoRics.
BoRics prices start at about $19 for a basic haircut for men or women and go up from there.
Why Choose BoRics?
BoRics is backed by the prestigious Regis Brand, which is known for providing high-quality hair care and salon products around the world. That means when you walk into your local BoRics, you will know exactly what type of service you will receive.
This salon provides a wide array of services to both men and women, offering more male-focused services than many similar salons do these days. Plus, by focusing on trendy cuts and styles, BoRics can get you the exact look that you have seen in a magazine.
BoRics is also a favorite among its clients because it is incredibly budget-friendly. Not only are the listed prices quite low, but also, the addition of regular coupons helps make trips to the salon even more affordable.
In particular, you can save up to 20 percent on products purchased at a salon if you buy them at the same time as a hair service.
No appointment is necessary for you to walk into BoRics for haircare. No matter what type of service you want, whether it is a basic trim or a major hair color change, you will nearly always get right in and be helped by a well-trained stylist.
The Regis brand places a premium on quality hair styling. Therefore, you never need to worry about being in the right hands here.
Services Offered
BoRics is a full-service salon with a list of haircare services and more to match. Each salon offers traditional and trendy cuts for men, women, and children.
If you're ready for a bigger change, you can also add on all-over color or highlights. Opt for cap highlights to save money or foil highlights if you want an even more stunning look.
If you are ready for a head of waves or curls, you can also choose a permanent, which comes with a haircut included. If you are dealing with dry, frizzy hair, a deep conditioning treatment along with a trim should help clear that up.
See Also: How to Lighten Hair That Was Dyed Too Dark
Keep in mind that haircare services come with full consultations here. At the beginning of your appointment, your stylist will ask you about preferences or concerns that you have.
By making sure that both you and your BoRics stylist are on the same page, you can be sure that you will walk out of the salon completely happy with how you look.
In addition, BoRics also offers facial waxing services for the brows, chin, and upper lip, as well as hair, mustache, beard, and sideburn trims.
BoRics Price List
Disclaimer: Prices above are for estimate only. The data has been gathered from various sources (online, on-site, and/or via phone). Pricing may vary from one location to another of the same salon brand or may not be current. To confirm current pricing, please contact your local salon.
Service
Price

HAIRCUTS

Adult Haircut
$19
Adult Haircut and Shampoo
$23
Adult Haircut, Shampoo, and Style
$35 & up
Children's Haircut (10 and under)
$14

OTHER SERVICES

Hair Coloring
$60 & up
Perm (includes cut)
$65 & up
Highlights (Cap)
$65 & up
Highlights (Foil)
$75 & up
Conditioning Treatment
$7
Facial Waxing
$12 & up
Salon Hours
Disclaimer: Hours of operation may vary slightly from one location to the next. To confirm current hours, please contact your local salon.
| Day | Hours |
| --- | --- |
| Monday | 9:00am – 8:00pm |
| Tuesday | 9:00am – 8:00pm |
| Wednesday | 9:00am – 8:00pm |
| Thursday | 9:00am – 8:00pm |
| Friday | 9:00am – 8:00pm |
| Saturday | 9:00am – 6:00pm |
| Sunday | 12:00pm – 5:00pm |
Products Sold
As part of the Regis brand, BoRics salons sell nearly every product that you would see in any other Regis-branded salon. Of particular note, however, is the very good price on the store brand, which works just as well as other more expensive salon brands do for most people.
The DesignLine brand offers a wide array of shampoos, conditioners, and styling products for all types of hair care needs.
You can also pick up many of your other favorite salon brands here, including It's a 10, Joico, Sexy Hair, TIGI, Nioxin, Paul Mitchell, Redken, and Biolage.
Be sure to ask your stylist for help because he or she can recommend the best product for your hair needs. In addition, many BoRics locations also sell hair styling tools, such as curling irons, straighteners, and brushes.
Company History
BoRics is a part of the Signature Style franchise, which is owned by Regis Corporation, a popular worldwide brand. Regis has proven itself to be a leader in the haircare world, currently owning well over 10,000 salons and franchises all over the world, including popular brands such as Best Cuts and Holiday Hair.
Originally founded in 1922 as Kunin Beauty Salon and renamed as the well-known Regis brand in 1958, Regis has taken over several other beauty brands and chains, most notably in 2006 when it acquired Sally Beauty Company.
BoRics has over 100 salons located mainly in the upper Midwest, including Michigan, Ohio, Illinois, Kentucky, Indiana and Pennsylvania. It also has some locations in Ontario, Canada.
With its focus on full-service haircare from professional stylists, BoRics continues to excel in the budget haircare world. Today, it remains committed to amazing customer service, trendy styles, a welcoming atmosphere, and a culture of professionalism.
BoRics Links
No products found.