Last Updated on January 11, 2022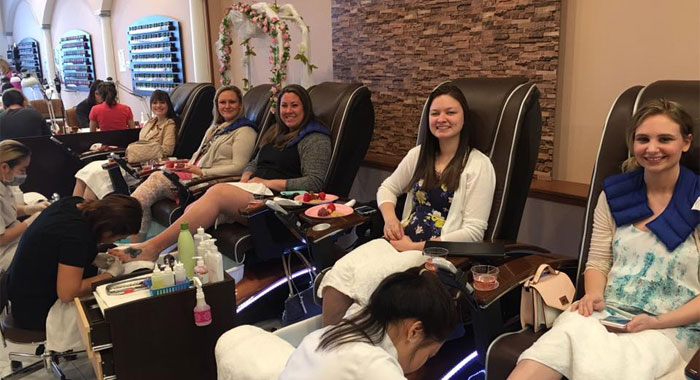 VIP Nails offers a luxurious manicure or pedicure at an extremely reasonable price, making this a popular choice among many suburban men and women who want a little professional help to look their best.
By offering traditional services as well as popular, newer options, such as trendy gel nails, VIP Nails remains popular because of its multi-faceted nail salon service offerings. VIP Nails prices begin at $15 for a regular manicure and go up from there.
Why Choose VIP Nails?
VIP Nails provides you with professional services from well-trained nail technicians at a fraction of the price of what you could find elsewhere. Although their prices may not be the cheapest in the business, VIP Nails is still a smart choice because the franchises are located in numerous American suburbs, making them easy for customers of all ages to find and enjoy.
Although each location looks slightly different from the rest, they all offer beautiful interiors, comfortable chairs, great lighting and plenty of amenities to keep you happy and content as you relax there.
Most have televisions installed, and all offer calming atmospheres to decrease your stress whether you are stopping in between errands or are keeping an after-work appointment.
While appointments are recommended if you want a specific time or if you are attending as a group, they are not required, and walk-ins are certainly welcome.
See Also: Walmart Nail Salon Prices
Another obvious reason that many choose VIP Nails as their salon of choice every day is due to the numerous service options. Not only can you receive an expert manicure or pedicure here, but also you can find children's services, acrylic nail services, waxing, eyelash extensions and more.
This makes VIP Nails a full-service salon that can help you look and feel more beautiful once you walk out the doors.
Services Offered
Of course, the most popular services at VIP Nails are manicures and pedicures. Here you will find traditional services using basic nail polishes. However, if you are looking for a nail option that will last even longer, consider acrylic nails, which are very durable and are particularly good if you have weak nails that break frequently.
UV gel nails are another option if you prefer a more natural and shinier finish. Regular gel polish is a popular choice if you prefer a natural-looking manicure that will last up to 14 days.
Many technicians at VIP Nails are highly skilled at full nail art and can help you achieve the exact design that you want based on your description or on a picture.
However, services at VIP Nails go far beyond your nails. You can choose a full line-up of waxing services for everything from your eyebrows to your legs.
See Also: European Wax Center Prices
Skilled technicians also provide classic lash extensions as well as volume lashes for adding extension and fullness to your natural lashes.
You will also want to check into children's services, including the Princess Pamper package, if you are stopping in with your child. Be sure to ask for the free five-minute massage while you are waiting for your manicure or pedicure appointment.
VIP Nails Price List
Disclaimer: Prices above are for estimate only. The data has been gathered from various sources (online, on-site, and/or via phone). Pricing may vary from one location to another of the same salon brand or may not be current. To confirm current pricing, please contact your local salon.
Service
Price

MANICURES

Regular Manicure
$15
Buff Manicure
$18
Spa Manicure

Scents: Orange, Lavender, Green Tea

$24
VIP Manicure
$30
Gel Manicure
$35

CLASSIC PEDICURES

Mini Pedicure
$18
Express Pedicure
$24
Regular Pedicure
$30
Special Pedicure
$35

SPA PEDICURES

Creative Spa Pedicure
$40
Organic Jelly Spa Pedicure

Scents: Orange, Lavender, Green Tea

$50
VIP Spa Pedicure
$55

GEL POLISH

Gel Manicure
$30
Gel Pedicure
Pedicure + $15
Artificial Nails w/ Gel Polish
$30 & up
Gel Nails w/ Gel Polish
$40 & up
Gel Polish Change
$30

UV GEL

Full Set of Pink & White Acrylic
$50 & up
Refill of Pink & White Acrylic
$40 & up
Full Set of Pink & White Gel
$55 & up
Refill of Pink & White Gel
$45 & up
Full Set of Pink Acrylic
$35 & up
Refill of Pink Acrylic
$30 & up
Refill of Pink Gel
$30 & up
Full Set of Crystal Acrylic
$35 & up
Refill of Crystal Acrylic
$20 & up
Full Set of Regular Acrylic
$28 & up
Refill of Regular Acrylic
$17 & up
Full Set of Overlay Acrylic
$28 & up
Refill of Overlay Acrylic
$17 & up

WAXING (for HER)

Eyebrows
$6
Upper Lip
$5
Lower Lip
$2
Chin
$6 & up
Sideburns
$8 & up
Whole Face
$25 & up
Half Leg
$25 & up
Full Leg
$45 & up
Half Arm
$15 & up
Full Arm
$25 & up
Under Arm
$15 & up
Bikini
$25 & up

WAXING (for HIM)

Eyebrows
$8
Chest
$40 & up
Back
$50 & up
Arm and Leg Wax
(ask for pricing)

KIDS (under 10)

Comes with 2 FREE designs on nails and toes.

Nail Polish
$8
Toe Polish
$10
Pedicure
$18
Manicure
$11
Pedicure & Manicure
$25
Spa Pedicure & Manicure
(adult prices)
Gel Manicure

Excluded from FREE designs offer.

$28
Gel Polish

Excluded from FREE designs offer.

$24

ADDITIONAL SERVICES

Nail Polish Change (Regular)
$6
Nail Polish Change (French)
$8
Toe Polish Change (Regular)
$10
Toe Polish Change (French)
$12
Nail Repair
$3 & up
Tip Removal
$10
French Manicure Add-on
$5
American Manicure Add-on
$5
Gel Top
$5
Gel Polish Add-on
$15
Fulle Set of Silk Wrap
$45
Refill of Silk Wrap
$25
Salon Hours
Disclaimer: Hours of operation may vary slightly from one location to the next. To confirm current hours, please contact your local salon.
| Day | Hours |
| --- | --- |
| Monday | 9:30am – 7:30pm |
| Tuesday | 9:30am – 7:30pm |
| Wednesday | 9:30am – 7:30pm |
| Thursday | 9:30am – 7:30pm |
| Friday | 9:30am – 7:30pm |
| Saturday | 9:00am – 6:00pm |
| Sunday | 10:00am – 4:30pm |
Products Sold
Although you are probably not heading into VIP Nails to complete your weekly beauty shopping, you may be able to snag your favorite manicure color in the salon so that you can fill in chips and nail regrowth on your own at home.
Here you will find only the best in salon brands of polish color, base coats and top coats as well as products to keep your bare nails and cuticles healthy in between appointments. Ask your nail technician for helpful hints on how to use your chosen products.
Company History
VIP Nails currently has numerous salons located all across the United States. Like other national chains such as Lee Nails or Dashing Diva, VIP Nails salons are located in easily accessible suburban areas near residential districts and are conveniently found in popular strip malls.
Although many VIP Nail locations look different from each other on the outside, all have a dedication to accessible luxury on the inside, a company tenet that has held true since its inception.
Individual locations are allowed to operate somewhat independently from the parent company, allowing each location to cater to its customers' exact needs.
Today, VIP Nails remains dedicated to its foundation of quality nail care from experienced and highly trained technicians. Over the years, it has also added in other professionals, such as masseuses and eyelash experts, to increase client base growth and customer loyalty.
This healthy company principle is sure to continue pulling in clients from all walks of life throughout the coming decades.
VIP Nails Links