Last Updated on January 11, 2022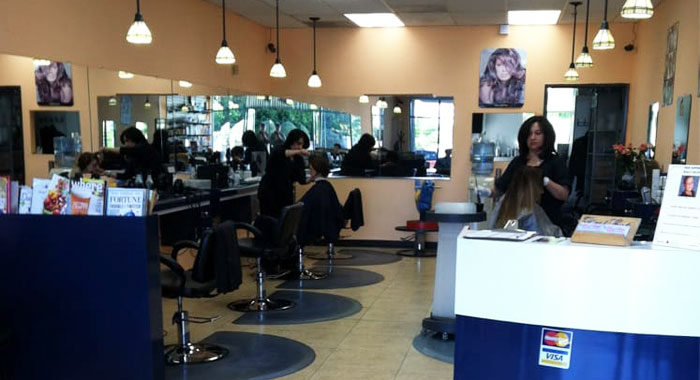 Best Cuts is a mid-range walk-in hair salon catering to individuals who want traditional or modern hair cuts in no time at all. As part of the prestigious Regis brand of salons, Best Cuts prides itself on catering to all people with quick but thorough cuts and basic haircare and styling add-ons for affordable prices.
Best Cuts prices start at about $22 for an adult haircut and go up from there.
Why Choose Best Cuts?
Best Cuts is a great choice for customers interested in saving money but still wanting a great hair cut or coloring experience.
With classic salon setups, an open environment and calming colors, Best Cuts focuses on serving clients who are looking for traditional or modern hair styles but who do not have much time to wait.
Hair service times move quickly here, and clients can easily walk in and get an appointment nearly immediately at most sites.
One popular option that customers love at Best Cuts is their Style Gallery. This gallery gives customers pictures to look through so that they can find a cut and color that fits their needs and goals.
Whether one wants beach waves or a new dimensional color, something great can be found in the trendy online gallery.
Best Cuts stylists are always knowledgeable and give customers phenomenal experiences. They are great at remembering the styles and colors for their regular clients, and management makes sure that stylists attend continuing education so that they are always up to date on trends and techniques.
Services Offered
Best Cuts offers a full range of haircare services for adults and children. Customers can choose from basic cuts, cuts with shampoo and cuts with styling. Bang and beard trims are also popular for quick touch-ups.
Semi and permanent all-over hair color can cover grays and give clients new looks. Gray blending lets individuals keep their natural looks while blending in gray strands less noticeably.
Mini and partial highlights give clients a small change for a new season while full highlights and lowlights create the most dimension.
Special services include formal styles and special occasion hairdos as well as blow outs, conditioning treatments, perms and texturizing services. The Malibu treatment clarifies and cleanses hair to remove impurities. Many Best Cuts also offer brow and facial waxing.
Best Cuts Price List
Disclaimer: Prices above are for estimate only. The data has been gathered from various sources (online, on-site, and/or via phone). Pricing may vary from one location to another of the same salon brand or may not be current. To confirm current pricing, please contact your local salon.
Service
Price

HAIRCUTS

Haircut (short)
$21.99 & up
Haircut (medium)
$27.99 & up
Haircut (long)
$34.99 & up

BLOW DRY

Blow Drying (short)
$21.99 & up
Blow Drying (medium)
$33.99 & up
Blow Drying (long)
$44.99 & up

DEEP CONDITIONING TREATMENT

Deep Conditioning (short)
$16.99 & up
Deep Conditioning (medium)
$34.99 & up
Deep Conditioning (long)
$44.99 & up

HAIR COLORING

All Over Color (short)
$55.99 & up
All Over Color (medium)
$72.99 & up
All Over Color (long)
$89.99 & up
All Over Color (thick hair - extra cost)
$22.00 extra
Root
$55.00 & up

HIGHLIGHTS / LOWLIGHTS

Highlights/Lowlights (short)
$60.00 & up
Highlights/Lowlights (medium)
$85.00 & up
Highlights/Lowlights (long)
$110.00 & up
Highlights/Lowlights (thick hair - extra cost)
$22.00 extra

OTHER SERVICES

Toner
$12.00 & up
Eyebrow Wax
$11.99
Eyebrow Thread
$17.00
Under Chin & Neck Wax
$17.00
Salon Hours
Disclaimer: Hours of operation may vary slightly from one location to the next. To confirm current hours, please contact your local salon.
| Day | Hours |
| --- | --- |
| Monday | 9:00am – 8:00pm |
| Tuesday | 9:00am – 8:00pm |
| Wednesday | 9:00am – 8:00pm |
| Thursday | 9:00am – 8:00pm |
| Friday | 9:00am – 8:00pm |
| Saturday | 9:00am – 6:00pm |
| Sunday | 11:00am – 5:00pm |
Products Sold
Best Cuts salons carry everything that their customers need to keep their hair sleek, beautiful and perfectly styled once they get home. Salon-only products are among the most popular because they are best for treating problematic, chemical-treated or aging hair.
Redken is a popular brand for color care. The Designline brand is a Regis-only brand that can only be found at Best Cuts and its sister salons. It is a full line of shampoos, conditioners and styling products.
Other popular brands include TIGI, Sexy Hair, Kenra, Joico, Farouk, Biosilk and Biolage. Designline for Men offers products specifically designed for men's unique hair and body care needs.
Best Cuts also carries other beauty products for the entire body. Men can find plenty of options for shaving and grooming while women will enjoy the full collections of nail treatments and nail polishes.
Customers can also find their favorite hair styling tools, brushes and appliances sold here.
Company History
Best Cuts is part of the Regis family of salons, which began operations in 1922 as Kunin Beauty Salon and was renamed as Regis in 1958 by the son of the founders.
Today, Regis headquarters are located in Edina, Minnesota, and are responsible for a variety of sister brands including Famous Hair and HairMasters. In fact, there are over 10,000 total Regis salons located across the United States. Most of them are franchises.
The brand began to grow dramatically in the early 1990s when customers increasingly began to realize that they could enjoy amazing hair cuts and styles at bargain salons through stylists that were expertly trained.
Best Cuts offers hair cuts and styling services to all clientele and does not discriminate for any type of socio-economic status.
Instead, the chain is known for its dedication to moderate prices, fast appointments, walk-in appointment options and traditional stylings. It also places an emphasis on ensuring that stylists are expertly trained and receive continuing education to match new trends and modern styles.
Best Cuts Links