Last Updated on September 19, 2023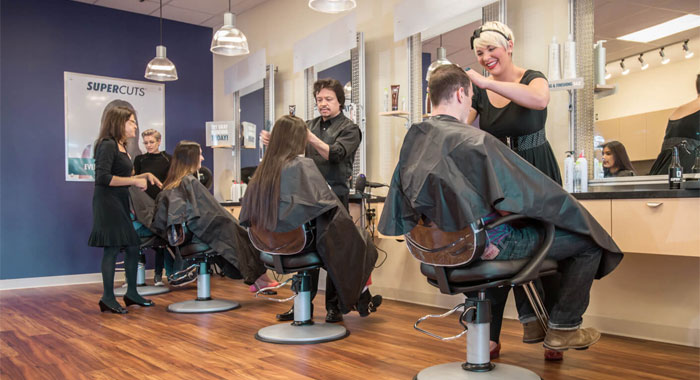 Supercuts is one of the top names in low-cost hair cuts and hair styling across the country and offers amazing quality for its budget-friendly services.
It offers consistent care at the more than 2,600 franchises across the country, along with several franchises now open in the United Kingdom and Australia.
Supercut prices start at around $22 for a standard adult "Supercut," but the actual price may vary by location.
Why Choose Supercuts?
The first thing that one notices at a local Supercuts salon is that it is quite similar to all other Supercuts locations. Each franchise provides consistent services, dependable prices, and a welcoming atmosphere.
No matter where one goes across the country, the Supercuts experience will be the same.
The most common hair care services are offered at each location. These include haircuts for men, women, and children, hair styling, coloring and other chemical services, and much more. Each of these services can be enjoyed without requiring any prior appointment.
In addition, each hair stylist has plenty of education and experience. Stylists can help customers choose the right cut and color for their skin tone and face shape and can even copy styles from pictures. Most people are surprised at just how much Supercuts has to offer.

Services Offered
Men's, women's, and children's haircuts are the most popular services at Supercuts. In fact, haircuts are called Supercuts because of how incredible they truly are.
The specialty Hot Towel Refresher uses hot, wet towels to clean away itchy hairs from the back of the neck and other areas of the skin so that customers are ready to get back to their days looking perfectly polished.
With Supercolor, clients enjoy an array of chemical services, including everything from root touchups to dramatic color changes. Coloring services begin with consultations so that stylists know exactly what clients want. They can perform all-over colors, highlights, lowlights, gray blending, and more.
Supercuts also focuses on ancillary beauty services that may not be available at every location. The Tea Tree Experience uses a tea tree-blended shampoo and conditioner along with a steamed towel for the face.
Eyebrow, lip, and chin waxing, as well as beard, mustache, and bangs trims, are other extra services commonly offered.
Supercuts Price List
Disclaimer: Prices above are for estimate only. The data has been gathered from various sources (online, on-site, and/or via phone). Pricing may vary from one location to another of the same salon brand or may not be current. To confirm current pricing, please contact your local salon.
Service
Price

HAIRCUTS

All haircut services include a Hot Towel Refresher.

Supercut
$22
Supercut II

Includes shampoo and basic conditioner

$26
Supercut III

Includes shampoo, basic conditioner, and blow dry

$35 & up
Supercut Jr. (10 and under)
$19
Supercut Sr. (65 and over)
$19

SUPERCOLOR

Tips
$35 & up
Highlights
$35 & up
Glazing
$45 & up
Root Retouch
$45
Gray Blending
$10

OTHER SERVICES

Shampoo
$9
Conditioning Treatment
$15 & up
Blow Dry
$15 & up
Styling
$40 & up
Tea Tree Experience
$15
Beard/Bang Trim
$10
Waxing (eyebrows)
$8
Waxing (lip/chin)
$7
Salon Hours
Disclaimer: Hours of operation may vary slightly from one location to the next. To confirm current hours, please contact your local salon.
| Day | Hours |
| --- | --- |
| Monday | 9:00am – 8:00pm |
| Tuesday | 9:00am – 8:00pm |
| Wednesday | 9:00am – 8:00pm |
| Thursday | 9:00am – 8:00pm |
| Friday | 9:00am – 8:00pm |
| Saturday | 9:00am – 7:00pm |
| Sunday | 10:00am – 6:00pm |
Products Sold
Supercuts offer their own product line put out by Regis, their corporate owners. These include the Designline products and Designline for Men. This extensive line offers shampoo and conditioners, leave-in products, and a variety of styling products, including texturizing paste, curl cream, and flat iron spray.
Certain products are specifically designed for color-treated hair or for gray, silver, or white hair.
In addition, Supercuts carries a variety of products from the top salon brands across the country. Many of these products can be picked up at any Supercuts location. They include such popular brands as Redken, Sexy Hair, and TIGI. It's a 10, Nioxin, Biolage, and Joico.
Supercuts focuses on products designed for specific hair concerns. Whether one has frizzy hair, thinning locks, or a dry, itchy, or greasy scalp, there is a product that will fit the bill.
Company History
Supercuts Salons began in 1975, with the first location built in California. However, the business now has its corporate headquarters in Minneapolis, Minnesota.
It is in the family of the Regis Corporation, which today is known as the largest salon corporation in the world, consisting of many other brands, including Cost Cutters and Holiday Hair.
With over 2,600 locations today, Supercuts can easily be found across the United States. With that many locations, it's naturally a direct competitor to Great Clips, which is also found in pretty much every city.
It should be noted that Supercuts is also a proud partner with Major League Baseball and is MLB's official hair salon.
Supercuts have certainly grown quickly in the past several decades. This is due in part to its smart business model and its franchising opportunities for individuals around the world who want to open salons.
In addition, it is able to keep a wide customer base because of its budget-friendly prices, experienced staff, and trustworthy cuts and styling services.
Customers who have had a great experience at one location can be sure that they will have similar experiences at any other location that they visit.
Plus, because of the little friendly and comfortable services that they offer at many locations, Supercuts has recently become known as a one-stop salon for all of one's most common beauty needs.
Supercuts Links