Last Updated on August 3, 2021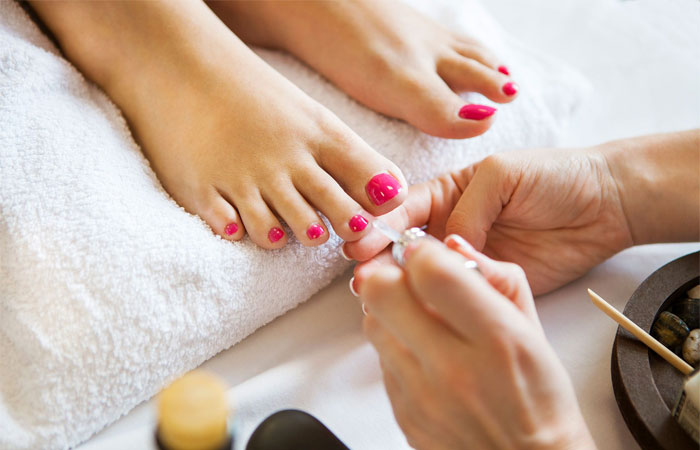 *This article may contain affiliate links. This means that at no cost to you, we may earn a small commission for qualifying purchases.
Getting a professional pedicure at a salon is a great way to relax for a few moments of your day and to get an elegant or fun look for your feet. While you may think that a pedicure is just a way to get your old nail polish removed and new polish applied, some standard professional pedicure steps will be followed at any good nail salon no matter the type of pedicure you're having done.
Your nail technician, whether at Regal Nails, Lovely Nails, or another local nail salon, will care for the health of your nails and your skin while also ensuring that you have a completely relaxing experience. Get ready for your next professional pedicure by learning the step-by-step process that your nail technician will most likely follow.
1. Soak Feet
Your pedicure will begin with a relaxing soak for your feet in warm water. Most likely, you will get a bubbling foot bath that may have a product added to the water to help soften the tough skin and calluses on your heels and toes as well as your cuticles. Plus, the soak will clean your feet, giving them a fresh scent.
2. Remove Polish
Next, your technician will remove any polish that you are wearing. You will be asked to remove each foot from the water, and the technician will pat it dry. Professional nail polish remover made of pure acetone works quickly and removes even the toughest colors, such as bright red.
3. Trim and File Nails
Now that your nails are softened from the water and do not have on thick coats of polish, your nail technician can work on shaping them. Toenails usually sport a straight or square shape that is cut fairly close to your toes to prevent snagging on socks.
However, your technician will work carefully to ensure that nails are long enough to prevent your surrounding skin from becoming painful or inflamed around the edges. He or she will then file your nails with quick one-way motions from the edge to the center of each nail to eliminate breakage.
4. Push Back Cuticles
Your feet will continue to soak between each step, allowing your cuticles that grow along the lower edges of your nails to soften. Your technician will once again remove one foot at a time from the foot bath, patting it dry before using a drop of cuticle softener on each nail. Cuticle softeners are often made from oil. Cuticles should never be cut but are only pushed back with a stick.
5. Exfoliate Feet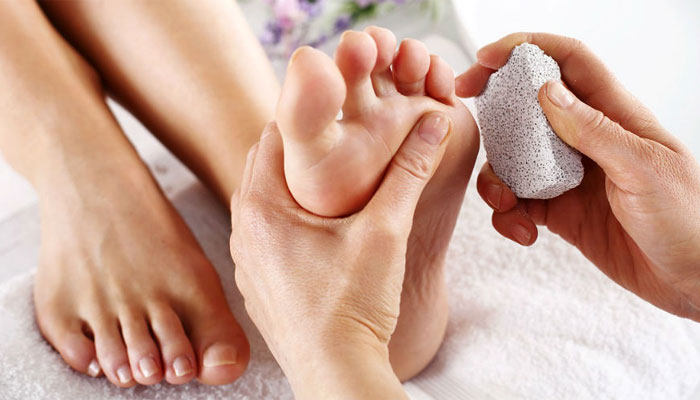 Now it is time to exfoliate the dead skin from your feet. This process will go quickly if you have been getting regular pedicures. However, it may take longer if you have not been in to the salon recently.
Your technician may use a variety of tools for this task, such as a pumice stone and a foot file designed specifically for calluses. By working quickly, your technician will minimize tickling sensations on your feet.
6. Massage Feet
A final exfoliating scrub is rubbed on your feet and calves to remove the last remnants of dead skin.
7. Rinse Feet
Your feet will be rinsed a final time to get the scrub off and ready your toes for the final steps.
8. Massage Feet and Calves
Now it is time for the fun and super relaxing parts of your pedicure. Once your feet are totally dry, your technician, whether it be at Dashing Diva, VIP Nails, or another nail salon, will slowly massage a special lotion or cream into your skin. You can ask for a fragrance-free version if necessary. This massage will help loosen tight muscles and all of the tiny joints in your feet.
9. Buff or Paint Nails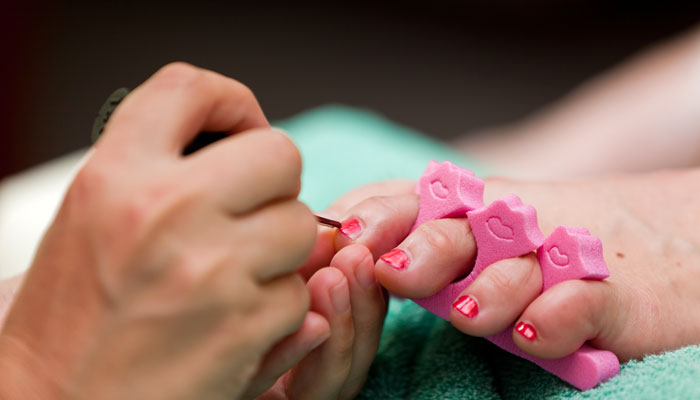 You are finally ready to get your toenails painted. Your technician will insert foam strips between each of your toes to keep the wet nails from rubbing each other. He or she may then start with a base coat depending on the type and color of polish you selected.
You will normally get two coats of color and a final top coat to seal in the color, create a shiny finish and help with quick polish drying.
10. Cure Paint
You can either wait around 20 minutes at the nail salon to let your polish dry on its own, or you can place your feet under a curing lamp to speed up the process. If your technician applied an oil or quick dry coat to your nails, the drying process may only take five minutes before you can be confident that your nails will stay smear-free.
When your professional pedicure procedure is complete, your feet will feel smooth, your toenails will look trimmed and even, and your nails will either be colorful or buffed and shiny. Consider getting a basic pedicure simply as a way to care for this oft-neglected area of your body. A spa pedicure is a great option before special events or as a fun outing with your friends.