Last Updated on November 10, 2022
Are you searching for Woodhouse Day Spa prices? Don't worry, because we have everything you need to know.
Woodhouse Day Spa is a national spa chain that offers services like facials, massages, and more. A trip to the spa may be perfect for you, whether you want to relax after a busy week or celebrate a special occasion. Read on to discover the Woodhouse Day Spa prices, and you'll be well on your way to the perfect spa day!
Why Choose Woodhouse Day Spa?
Woodhouse is one of the best spas to visit because it suits new or experienced spa lovers. If you go to spas often, you can try a unique new treatment like a deluxe facial or a full-body detox. Or, you can book a pedicure or get a simple body massage if it's your first time at a spa.
Woodhouse Day Spa is ideal for mother-daughter dates, get-togethers with a group of friends, or a romantic evening with your partner. The spa offers treatments for everyone, including pregnant people and athletes.
We recommend Woodhouse because the atmosphere is unbeatable. The quiet waiting room has soothing music and scents of essential oils, and the spa staff talks in a voice. Many spas have a digital detox policy, and you can enjoy an afternoon away from your phone.
Woodhouse Day Spa is also happy to accommodate individuals with disabilities and adults of all age categories. The welcoming atmosphere and countless spa treatments make Woodhouse Day Spa the ideal place to visit.
Services Offered
Woodhouse Day Spa has a wide range of services to fit your needs and preferences. Enjoy a relaxing massage, an invigorating face peel, or a waxing session. You can also select a package with several services.
The most popular service at the spa is a massage. Every massage starts with a foot rub and soothing essential oils. Choose a Deep Tissue Transformation for sore muscles, or try a Swedish massage with hot rocks. Athletes will benefit from the Sports Massage with trigger point therapy.
You make the spa time your own at Woodhouse Day Spa, and you can focus on one area or the whole body. Body Treatment services, like the full-body mask, target the entire body for maximum relaxation.
Try a classic facial at Woodhouse Day Spa. They offer a Deep Cleanse treatment that's ideal for acne and clogged skin. The Lift + Firm service is helpful for mature skin and pairs well with a Gua Sha facial sculptor service. Book a soothing treatment with exfoliation and cleansing if you struggle with dry or flaky skin.
Woodhouse Day Spa features a unique service called Rituals. Booking a ritual gives you the deep relaxation you need after a stressful week or life event. You can book a Meditative Mood Soak bath with sea minerals, followed by a massage. There's also a digital detox massage to help get your sleep cycle back on track.
Get your nails done at Woodhouse Day Spa and enjoy a manicure and pedicure. The Luxury Hand Retreat starts with exfoliation and ends with a deep hand cream. Try a gel treatment for a natural-looking manicure, or get your nails filed and buffed until they shine.
Woodhouse Day Spa also offers waxing services. Their expert technicians will wax your skin in the most comfortable way possible, and you'll leave the spa feeling confident. Woodhouse provides waxing services for eyebrows, bikinis, arms, and legs. Prices for waxing vary by person.
Woodhouse Day Spa Price List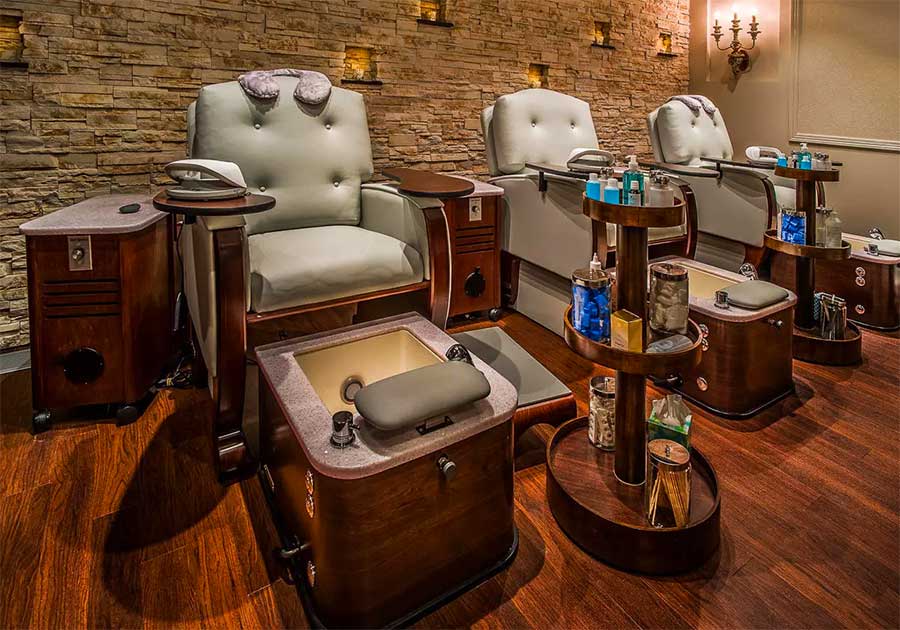 The best part about Woodhouse Day Spa is the prices. There are plenty of different tiers of services, so visitors can choose a lower-level service if they're on a budget or a higher one if they're going all out. If you want a pricier service at a lower cost, you can book a shorter appointment to make it cheaper.
Read on for an overview of Woodhouse's most popular treatments and their prices. Keep in mind that prices vary by location.
Disclaimer: Prices below are for estimate only. The data has been gathered from various sources (online, on-site, and/or via phone). Pricing may vary from one location to another of the same salon brand or may not be current. To confirm current pricing, please contact your local salon.
Service
Price

Massage

Calming Retreat
$265.00
Deep Tissue Transformation
$125.00
Body Balance Swedish Massage
$110.00
Mother-To-Be Massage
$125.00
Sports Massage
$120.00
Relax & Run
$65.00

Body Treatments

Body Treatments
$165.00
Holistic Body Detox
$225.00

Facials

Lift + Firm
$210.00
Hydrate & Soothe
$155.00
Anti-Aging
$165.00
Hydrafacial Express
$165.00
Microdermabrasion
$165.00

Rituals

Meditative Mood Soak
$210.00
Restorative Sleep Massage
$165.00

Nails

Luxury Hand or Foot Retreat
$80.00
Manicure
$65.00
CBD Pedicure
$100.00
Woodhouse Day Spa Hours
Woodhouse Day Spa hours vary by location. Most open around 9 or 10 AM and close at 7 PM on weekdays. Woodhouse Day Spa has limited hours on Sundays, so make sure to call their office on a weekday to schedule your visit.
Disclaimer: Hours of operation may vary slightly from one location to the next. To confirm current hours, please contact your local salon.
| Day | Hours |
| --- | --- |
| Monday | 9:00am – 6:00pm |
| Tuesday | 9:00am – 6:00pm |
| Wednesday | 9:00am – 6:00pm |
| Thursday | 9:00am – 7:00pm |
| Friday | 9:00am – 7:00pm |
| Saturday | 9:00am – 6:00pm |
| Sunday | 12:00pm – 6:00pm |
Products Sold
Woodhouse Day Spa doesn't just have relaxing spa treatments. They also offer a wide variety of body care products.
At many locations, you can purchase products after your spa visit. Or, stop by anytime to pick up a product for a gift or personal use.
Many Woodhouse locations, like the famous Victorian-style Denver spa, sell body lotion, face masks, and essential oils. Keep in mind that not all Woodhouse Day Spa locations sell products.
Woodhouse Day Spa also sells gift cards. Select a dollar amount of your choice and treat a friend or family member with a spa day.
On Sale
Jergens Ultra Healing Dry Skin Moisturizer, Body...
HELPS RELIEVE DRY SKIN: Jergens Ultra Healing Moisturizer helps to improve skin's...
EXTRA DRY SKIN LOTION: Absorbs into extra dry skin, including typically rough spots like...
HELPS TO REPAIR DRY SKIN: Penetrates five layers of skin and reduce dryness at the source
Company History
Woodhouse Day Spa is a Texas-based company founded by entrepreneur Jeni Garrett. Garrett started the spa chain in 2001, opening the first location in Victoria, just north of Corpus Cristi. Although she was only 21 years old, she'd go on to transform Woodhouse into one of the most successful franchise spas.
Woodhouse Day Spa thrived and attracted more customers. Jeni Garrett decided to franchise the company in 2003 and expand all over Texas.
The spa continued to grow in popularity and opened franchises in other states. Today, there are over 60 Woodhouse Day Spas in 21 states across the US.
Radiance Holdings acquired the spa chain in 2020, but it remains available for franchising. Some of the most popular locations include Denver and San Antonio.
Woodhouse Day Spa Links