Last Updated on May 27, 2022
Having great hair just makes you feel good. It can give you an air of confidence and make you feel more pulled together. When you need a trim, feel like your color is blah, or want a total makeover, you might want to change it now. All you need is to book an appointment with a good hairdresser to make your locks look lovely.
But, how do you choose a good stylist? Do you rush to the mall and find a stylist in the salon there? Do you go to the chain salon on the corner? Or, do you max out your credit card at the most expensive salon in your area?
Keep reading and find out just what makes a stylist a good hairdresser, and how to find one to give you the new look you've been wanting.
Related: Hairdresser vs Barber (What's the Difference?)
What Makes a Good Hairdresser?
When you think about what makes a stylist a good one, the first thing that comes to mind is probably skill. However, skill is hard to judge on initial appearance alone.
You might be tempted to look at the stylist's hair to determine their skill level. Yes, a stylist with nice hair that looks professional is important, it shows that he or she takes the job seriously enough to put effort into themselves.
But, consider that hairstylists don't always cut and color their own hair. Some do, but it is not the best way to tell how good a hairdresser they are. You might be choosing them based on another stylist's skill.
Though it is one of the more important traits a good hairdresser will have, it is important not to be hung up on skill level alone. There are many other things that make someone a good hairstylist.
See Also: 5 Signs of a Bad Hairdresser
1. Listens to You
First, a good hairdresser listens. Your hair is important to you, so it can be very frustrating when you ask for something and don't get it. Explaining that you want a light trim but getting several inches cut off can turn an appointment sour very quickly.
Getting the cut you want because your stylist listened to your request is a good indication that the stylist is a great one.
2. Provides Honest Feedback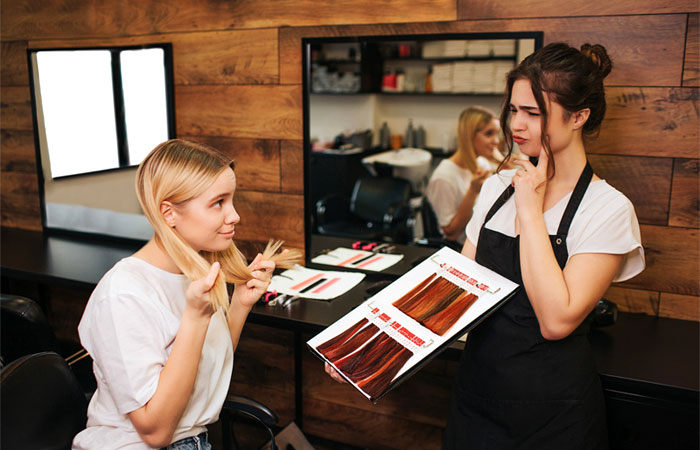 Second, a good hairdresser gives feedback and sets you up for realistic expectations. Often when you see a picture of someone with a style that you love, you may not realize that the person in the picture has "cheated".
They may have extensions in their hair to make it longer, or clip-in hair to make it look thicker. Maybe you have a different hair texture than the person in the picture, and that cut will require a styling routine far more extensive than you are willing to commit to daily. There are many reasons why a style won't work for you or your lifestyle, and a good stylist won't pretend that it will.
After you explain what you like, your stylist should offer feedback about whether that style will work for you and what maintenance it will entail.
This is especially important for color. A person with very dark hair needs to know that the blond they want may damage the hair or require more than one visit to change. They'll also be able to help you figure out the products you will need to maintain the look.
3. Understands Your Hair Habits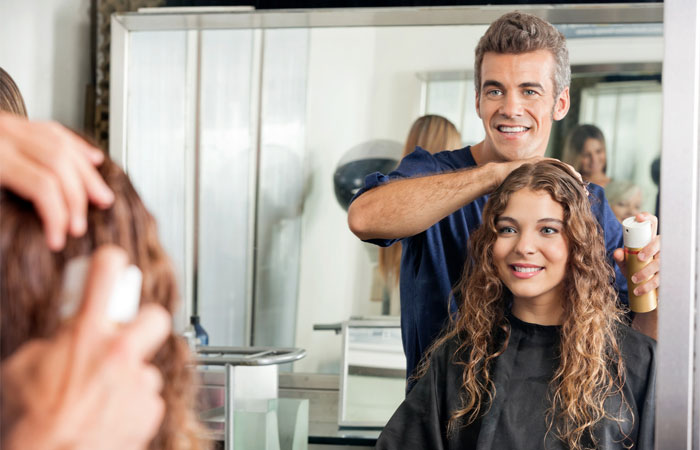 Similarly, a good hairstylist will learn about you and your hair habits. They will ask questions about how often you want to come back in for a trim or color appointment. They will also find out if you are a wash-and-go kind of person, how often you wash your hair, how you will style your hair most of the time, and even if you have hard water at home.
Things that might not seem to make a difference to your hair, like whether or not you swim or exercise hard enough to need to wash your hair daily, can matter. A good hairdresser will find out and help you make decisions based on your habits.
Does a High-End Salon Mean a Great Hairdresser?
A common belief is that you must go to an expensive, high-end salon to find a great hairdresser. To an extent that is true.
High-end salons mean higher prices, and few clients will pay those prices if the stylist is not good at what they do. However, there are many stylists that are truly great hairdressers and work at more moderately priced salons.
Even within high-end salons, there is a hierarchy of both cost and skill level with the most experienced stylists charging more than newer stylists. So, even at a high-end salon skill level varies.
Just because they work at a high-end salon doesn't guarantee they are a great stylist.
Tips For Finding a Great Hairdresser
Tip 1: Find a Specialist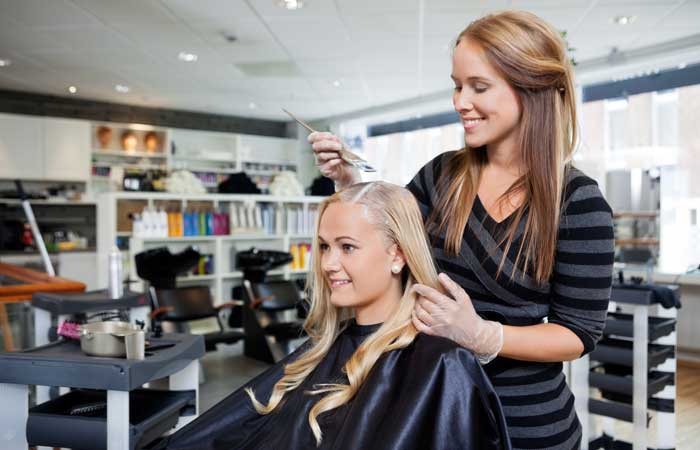 It is important to consider the service you are looking for when deciding where to find the best stylist.
For highlights and other color services, you'll want to look for a color specialist. There is magic to finding just the right color for your skin tone or knowing exactly where to add highlights that will make you look like you just got back from a beach vacation. This is especially important if you need a color correction when a home coloring job went wrong.
Related: 8 Hair Coloring Myths
For a haircut, you might consider a salon that specializes in cuts. Consider that color appointments are often a couple of hours long, so those stylists may only do 4 haircuts in a day. But, at a salon where the stylists do nothing but haircuts all day, they can easily double that before lunch.
They may have more experience with the cut you're hoping to get, whether that's a layered cut, pixie cut, or something in between.
Tip 2: Word of Mouth
Complimenting someone's hair will probably make their day. If you see someone with a style you like, tell them how amazing it looks and ask who does their hair. You can also ask friends, family, or work colleagues for recommendations.
If they give you a name or place they like, ask them what they like about it and what they don't. Your priorities may differ from theirs.
For example, one might need the flexibility of a place that doesn't require appointments so they're willing to take a chance on a new stylist each time. If you prefer to cultivate a relationship with your stylist, you might not care about having to make an appointment 6 weeks out.
Tip 3: Low-Stakes Appointment
A good way to get a feel for a salon or stylist is to book a low-stakes appointment. Going in for a conditioning treatment or a blowout lets you spend some time watching the stylists at work. It allows you to talk to your stylist and ask a few questions.
If you go in a little early you can check out the hair of your stylist's previous client as they walk out. It also gives you an opportunity to see the work of other stylists in the salon.
Tip 4: Utilize Social Media
Many stylists have at least one social media account to showcase their work. Looking on any of the social media platforms for hairstylists in your area will bring up several profiles.
Scrolling through their posts is like looking through their portfolio so you can see what they are capable of. Taking a look at the comments and reviews on a salon or stylist's social media page is also helpful because it can give you an idea of how satisfied the clients of a salon or a stylist are.
The Bottom Line
There are many attributes that go together to make someone a good hairdresser. Now that you are armed with the information you need to separate the best from the rest, you can make your appointment.
If you are still not sure which stylist you want to choose, start small. Small changes like a trim or a few highlights are more easily corrected if your stylist of choice didn't work as well as you had hoped.
During the appointment, consider each of the things that make a stylist a good one and see if they are the right fit for your next big change.