Last Updated on September 19, 2023
Bliss Nails Salon focuses on providing healthy solutions to clients who want to grow their short nails or glam up with fabulous manicures, waxing, and pedicures. The Spa's concept is primarily organic and eco-friendly.
Why Choose Bliss Nail Salon
Most clients trust the salon because of the technician's artistry and the ability to provide comfort and safety to everyone. That's why the Spa pledges to adhere to high beauty industry standards. For instance, they maintain high hygiene standards by sanitizing and disinfecting every reusable tool according to industry "best practices" and state regulations.
The salon also offers clients some tools after a single use, especially if they are difficult to disinfect.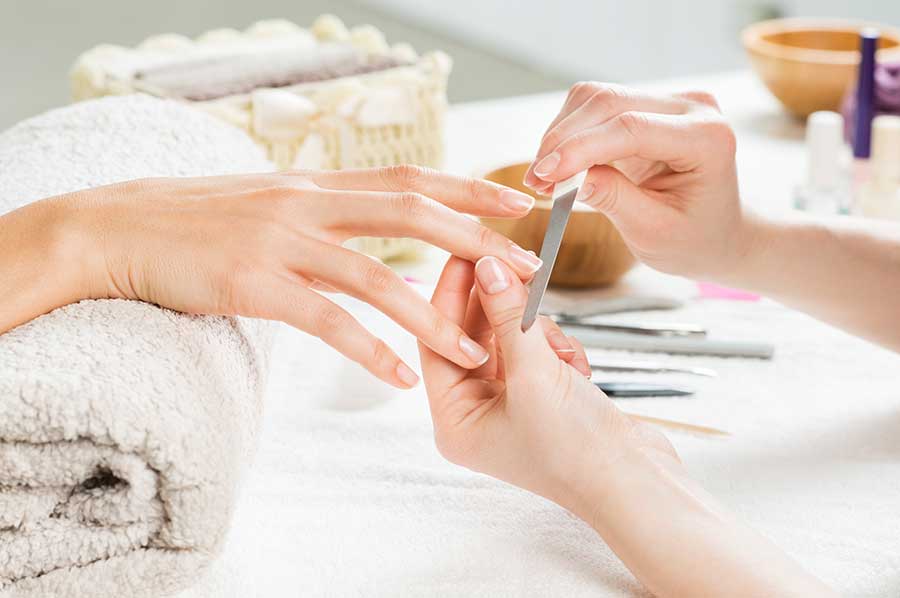 You can also bring the tools you prefer to the salon, and you'll get the services you need regardless. But, whatever you bring will still get disinfected before use as the state law dictates.
In addition, some clients prefer Bliss Nail Salon because of the technicians' experience. They regularly take beauty classes to learn new techniques, product knowledge, and safety/health concerns. So, you should choose this salon for the high quality of services.
Services Offered
Bliss Nail Salon provides manicure, pedicure, powder, and waxing services.
Manicure Services
The basic manicure services in this Spa include cuticle care, hand massage, and polish application. You can choose from any of the following categories:
Spa Manicure
This manicure type is effective for clients with extremely dry or hard-working hands. It primarily comprises cuticle care, hydration with a vitamin E mask, and hand massages.
You can also get an exfoliation service with an organic Spa sugar scrub. In addition, if you want polish application services after the massages and exfoliation, you can still get it done.
Gel Manicure
In this category, you'll enjoy a classic manicure and Gel polish application. Many clients prefer it because it is a convenient service. For instance, it doesn't require drying time. In addition, it's the only one not accompanied by smudges or chipping.
So, Gel Manicure is perfect for parties, vacations, and weddings. If you have any special occasions and need a quick manicure fix, Bliss nail salon has you covered.
Dip Manicure
This Dip Manicure will be your favorite if you are an acrylic lover. It is the latest nail service trend, perfect for oily, brittle, or thin nails.
This service gives your nails light and healthy support. It also doesn't require dying time and lasts longer. It also can't smudge.
Pedicure Services
A classic pedicure in Bliss Nail Salon entails a mini foot massage, cuticle care, and exfoliation with an organic sugar scrub. Usually enjoyed by clients who need on-the-go pedicure services. But they also work better for two-week basic clients.
Here are other options:
The Works Pedicure
The Works pedicure is perfect for tired feet. It includes cuticle care, exfoliation with an organic lavender sugar scrub, and callus treatment. You'll also get a foot massage after hydration with a mint mask.
Milk and Honey Pedicure
This pedicure also relieves tension in extremely tired feet. It involves cuticle care, exfoliation with the milk and honey organic sugar scrub, and hydration with a mud mask. Afterward, you'll get a foot massage using butter lotion.
Sports Pedicure
This pedicure involves feet soaking in a hot tub with peppermint, usually an antibacterial one, cuticle care, and callus treatment. Afterward, you'll get an exfoliation with sea sand OPI Menthol scrub and hydration with a mink mask. Finally, you'll get a paraffin wax and a relaxing foot massage.
VIP Pedicure
This pedicure offers a complete foot treatment that entails a 10 minutes foot soaking lavender or mint antibacterial jelly, cuticle care, and callus treatment. Afterward, you'll enjoy an exfoliation with OPI topical sugar scrub and hydration with a vitamin mask.
Finally, you'll get a paraffin wax and 15 minutes of a hot stone massage.
Deluxe Pedicure
This pedicure is effective in relieving tension in overworked feet. It entails cuticle care, callus treatment, and exfoliation with an OPI green tea sugar scrub. Afterward, you'll get a hydrating mint mask and a hot stone massage.
Eyelash Extension
Bliss Nail Salon technicians are skilled in individual types and removal of eyelash extensions.
Waxing
You can get waxing services done on any of the following body parts:
Eyebrows
Chin
Arms (half arm, full arm, and under arm)
Legs (half leg and full leg)
Brazilian
Bikini
Face
Lips and sideburn
Kid's Menu
The Spa also offers kids' services separately. So, you can get a kid manicure and pedicure. And afterward, you can top it all up with a polish change.
Nail Enhancement
This service is usually for clients with no or extremely short nails. It helps grow your nails organically. Some services under this category include an acrylic polish, a French, and a full-in acrylic or gel.
Add-On Services
This category entails extra callus removal services, extra minutes of massages, and paraffin wax for hands/feet. You can also get polish changes.
Bliss Nail Salon Price List
Disclaimer: Prices above are for estimate only. The data has been gathered from various sources (online, on-site, and/or via phone). Pricing may vary from one location to another of the same salon brand or may not be current. To confirm current pricing, please contact your local salon.
Service
Price

Single Sessions 

Classic Manicure
$20.00
Bliss Spa Manicure
$35.00
Hollywood Manicure
$45.00

Manicure (Add Ons) 

Light Massage (5min)
$5.00
Scrub Treatment
$5.00
Mask Treatment
$5.00
Paraffin Treatment
$10.00

Pedicure 

Classic Pedicure
$5.00
Bliss Spa Pedicure
$50.00
Hollywood Pedicure
$65.00

Pedicure (Add Ons) 

Light Massage (15min)
$20.00
Scrub Treatment
$10.00
Mask Treatment
$15.00
Paraffin Treatment
$15.00

Gel Nails 

Nail Tips with Gel Overlay
$55.00
Sculptured Nails (Bio Sculpture)
$65.00
Sculptured Nails (Mixed, other)
$55.00
Overlay or Refill
$50.00
Extra Long Sculptured Nails Surcharge
$20.00
Gel Nails Removal Only
$20.00

Powder Nails 

ACRYLIC – New Set
$30.00 & Up
ACRYLIC – Refill
$20.00
UV – New Set
$35 & Up
UV – Refill
$25.00
SOLAR GEL – New Set
$40 & Up
SOLAR GEL – Refill
$30.00

Dipping Powder

Clear New Set
$45.00 & Up
Overlay
$35.00

Hands Add Ons

Shellac French
$15.00
Shellac UV Polish Only
$20.00
Regular Polish Change Only
$15.00
Add-On French
$10.00
Add-On Shellac
$10.00
Add-On Design (Each)
$2.50
Add-On Design (Set)
$15.00
Treasure Nails (Each)
$15.00
Treasure Nails (Set)
$95.00
Treasure Swarovski (Each)
$40.00
Treasure Swarovski (Set)
$175.00
Rhinestones (Each Application)
$0.50
Swarovski (Each Application)
$2.00

Feet Add Ons

Shellac UV Polish Only
$20.00
Regular Polish Change Only
$15.00
Add-On French
$10.00
Add-On Shellac
$10.00
Add-On Design (Each)
$2.50
Add-On Design (Set)
$15.00

Other Add Ons

Shellac Removal Service Only
$10.00
Custom Nail Designs (Each)
$5.00
Custom Nail Designs (Full Set)
$40.00
Nail Fix, Regular Sails, Surcharge
$5.00
ONE NAIL FIX ONLY, Complimentary
FREE
NAIL FIX, Chipped Polish
FREE

Waxing

FACE – Sideburns
$15.00
FACE – Upper Lip
$8.00
FACE – Chin
$8.00
FACE – Eyebrows
$10.00
FACE – All
$30.00
ARMS – Underarms
$15.00
ARMS – Half Arms
$15.00
ARMS – Full Arms
$20.00
ARMS – All
$45.00
LEGS – Half Legs
$15.00
LEGS – All
$30.00
CHEST – Upper Area
$40.00
CHEST – All
$60.00
BACK – Half-Back
$40.00
BACK – All
$60.00
Brazilian
$40.00
Bikini
$20.00
Full Body
$150.00

Eyelash Extensions

Daily Disposable Application incl
$20.00
Natural Set (1.5 Hour Limit)
$99.00
Bliss Volume Set (2-Hour Limit)
$150.00
Hollywood Volume Set (3 Hour Limit)
$200.00
EXTENSION Touch Up Each Application
$2.00
REFILL Appointment 1 Hour
$60.00
Glitter Lashes – Each
$2.00
Swarovski Crystals – Each
$3.00
PARTY LASHES – Each
$2.00
LASH REMOVAL SERVICE
$30.00

Tinting

Eyelashes
$20.00
Eyebrows
$15.00

Facials

Classic Beauty Facial
$55.00
Bliss Spa Facial
$80.00
Hollywood Facial
$105.00
Salon Hours
You'll find the store open from Mondays to Saturdays. Their working hours are from 10 Am to 07 Pm every Monday through Friday. They close early on Saturdays, usually at 5 p.m.
Disclaimer: Hours of operation may vary slightly from one location to the next. To confirm current hours, please contact your local salon.
| Day | Hours |
| --- | --- |
| Monday | 10:00am – 7:00pm |
| Tuesday | 10:00am – 7:00pm |
| Wednesday | 10:00am – 7:00pm |
| Thursday | 10:00am – 7:00pm |
| Friday | 10:00am – 7:00pm |
| Saturday | 10:00am – 5:00pm |
| Sunday | Closed |
Products Sold
The products used in Bliss Nail Salon are organic and enhance healthy nail growth and a glamorous appearance.
Some of the products sold include
No products found.
Wella color charm hair color
Sebastian Shaper hair spray plus
Nail Bliss bling and clowning around
Nail Bliss bling nail fashion flasher
Nail Bliss bling gilt giver
Nail Bliss top seal
No products found.
Company History
Bliss Nail Salon is a different kind of neighborhood salon founded on the core idea that nail care should always be a lovely experience. It's famous for its cleanliness and professional nail care services.
You can find it in New Britain, Connecticut. Its zip code is 06053.
The salon's concept originated in Florida in 2012. It was a suggestion by Alanna and Ken McAllister, who founded the My Salon Suites franchise.
The two began by renting retail space and subleasing it to aestheticians, massage therapists, and nail technicians. The New Jersey State gave the green light to salon suites in July 2020, and Bliss Salon was the first of its designs in Sussex.
No products found.