Last Updated on November 13, 2022
AJ Nails is a premier nail salon in Weirton, West Virginia. It's among the best places for nail services in all of West Virginia and Pennsylvania, and you can't beat the prices.
The salon offers various mani/pedi options to make your nails look their best. Spoil yourself with a spa day and get a manicure and massage. Or, enhance your nails with acrylic or dip powder. We'll go over the prices of these services and more, including store hours and company history.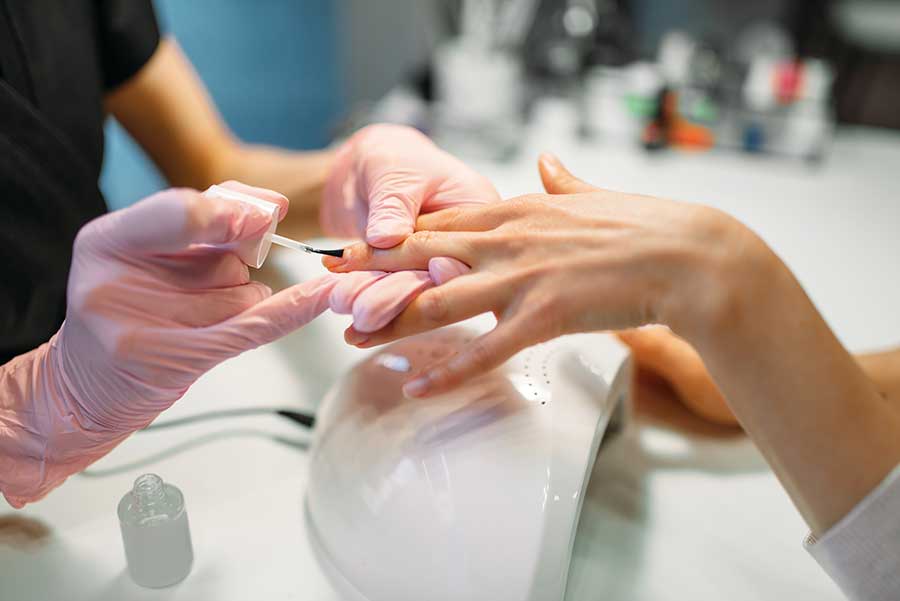 Why Choose AJ Nails?
AJ Nails has everything you could want in a nail salon. You can customize your experience and choose the services that work for you.
You work directly with a nail technician to create your new look at AJ Nails. You can select a style off the menu or create a unique design.
AJ Nails is easy to visit because they offer walk-in appointments. Wait times are short, but if you'd like to stay on schedule, book ahead on their website booking portal. Stay with your favorite technician every time, or schedule with the next available person.
The nail salon is also very sanitary. You won't have to worry about cross-contamination of tools or nail supplies. The technicians use a protective liner on the chairs and change it after each customer.
Services Offered
Read on to find the AJ Nail service that's right for you.
Manicures
Pamper yourself with a manicure at AJ Nails. You can choose a basic manicure if you're short on time or indulge in a spa experience for a higher price.
The Express Manicure is a basic package with an essential oil soak and cuticle grooming. It also includes nail shaping and your choice of nail polish. The Express Gel Manicure adds a gel polish service to the Express Manicure.
Or, choose the Classic Manicure, an upgraded version of the Express with a sugar scrub exfoliation, a towel wrap, and a relaxing massage. You can also add gel polish to this service.
Kids can enjoy manicures too at AJ Nails. The kids' service includes everything in the Express Manicure, with the option of gel polish.
Pedicures
Add a pedicure service to your manicure appointment for a well-rounded spa day. AJ Nails has plenty of pedicure packages to keep your feet and toes healthy and polished.
The Express Pedicure is a base package ideal for first-time visitors. It starts with a whirlpool spa soak to relax your feet. Next, technicians will shape your toenails and cuticles. Choose your favorite nail polish to finish the service.
Add to the Express Pedicure with a Classic Spa Pedicure Polish. It includes all the Express features, a citrus sugar exfoliation scrub, an olive lotion massage, and a hot towel wrap. You'll also get to select a nail polish.
Consider the Deluxe Pedicure if you have rough or dry feet. It has all the features of a standard pedicure with callus treatment.
Get silky soft skin with the Fresh Lemon Spa Pedicure, or try the organic 7-step treatment with the Premium Spa Pedicure Collection. Whatever your pedicure goals are, AJ Nails has something satisfactory.
Nail Enhancement
Add some glam to your fingernails with an acrylic enhancement. Start fresh with a set, and you can request almost any design, color, or shape. If you already have acrylic nails, AJ Nails technicians can rejuvenate them with a fill-in treatment.
AJ Nails offers a gel-based nail service that uses LED lighting to make your treatment durable. You can get a set of new nails or stop by for a touch-up.
Nails and Toes Add-Ons
Upgrade your experience with an add-on like a wax treatment or nail repair. You can get French nails or a gel polish change for just a few dollars.
Waxing
AJ Nails offers more than just nail services. You can also request waxing on your lip, chin, sideburns, bikini, and more. Keep in mind that prices may vary due to individual needs.
AJ Nails Price List
Read on to see prices for AJ Nails.
Service
Price

Manicures

Express Manicure
$22.00
Classic Manicure
$30.00
Express with Gel
$34.00
Classic with Gel
$40.00
Kids Manicure
$16.00
Kids with Gel
$30.00

Pedicures

Express Pedicure
$30.00
Kids Pedicure
$28.00
Classic Spa Pedicure Polish
$38.00
Deluxe Pedicure
$48.00
Deluxe 4-Step Pedicure
$56.00
Volcano Spa Pedicure
$60.00
Fresh Lemon Spa Pedicure
$65.00
Sunshine Fresh Orange Spa Pedicure
$65.00
Premium Spa Pedicure Collection
$72.00
Happy Toes Spa Pedicure Package
$80.00
Gel Polish Add-On
$15.00
Gel French Add-On
$25.00
Callus Removal
$7.00

Acrylic Nail Enhancement

Full Set
$40.00 & Up
Fill-In
$30.00 & Up
Gel Full Set
$40.00 & Up
Full Set (Pink and White):
$65.00 & Up
Fill-In (Pink)
$45.00 & Up
Full Set Ombre (2+ Colors)
$60.00 & Up
Full Set Ombre (3+ Colors)
$70 & Up
Fill-In Ombre (1 Color)
$45 & Up
ill-In or Redo (Pink, White, or Ombre)
$65 & Up

Dip Powder Nail Enhancement

Dip Powder:
$50.00
Dip Powder with Tips:
$55.00 & Up
Pink and White Dip Powder
$55.00
Pink and White Dip Powder with Tips
$60.00 & Up
Ombre Dip Powder
$60.00 & Up
Ombre Dip Powder with Tips
$65.00 & Up

Nails and Toes Add-Ons

Nail Design
$5.00 & Up
French Manicure
$10.00 & Up
Nail Repair
$5.00 & Up
Shorten Nail Length
$5.00 & Up
Add Longer Nails
$5.00 & Up
Nail Shaping
$5.00 & Up
Regular Polish Change
$15.00
Gel Polish Change
$25.00
Gel Removal
$5.00
Tips and Toes Gel Polish Change
$48.00
Paraffin Wax Add-On
$10.00

Waxing

Lips
$8.00
Chin
$8.00 & Up
Eyebrows
$12.00
Sideburns
$15.00
Underarms
$30.00 & Up
Chest/Back
$50 & Up
Half Arms
$25 & Up
Full Arms
$45 & Up
Half Legs
$30 & Up
Full Legs
$55 & Up
Bikini
$50 & Up
Brazilian Wax
$75 & Up
Disclaimer: Prices below are for estimate only. The data has been gathered from various sources (online, on-site, and/or via phone). Pricing may vary from one location to another of the same salon brand or may not be current. To confirm current pricing, please contact your local salon.
AJ Nails Hours
Disclaimer: Hours of operation may vary slightly from one location to the next. To confirm current hours, please contact your local salon.
| Day | Hours |
| --- | --- |
| Monday | 10:00am – 7:00pm |
| Tuesday | 10:00am – 7:00pm |
| Wednesday | 10:00am – 7:00pm |
| Thursday | 10:00am – 7:00pm |
| Friday | 10:00am – 7:00pm |
| Saturday | 10:00am – 7:00pm |
| Sunday | Close |
Company History
AJ Nails began as a small nail salon in Weirton, West Virginia. Due to its high-quality and varied services, the salon rose in popularity. AJ Nails is now a popular business serving more expansive areas, including West Virginia, Pennsylvania, and Ohio.