Last Updated on June 14, 2022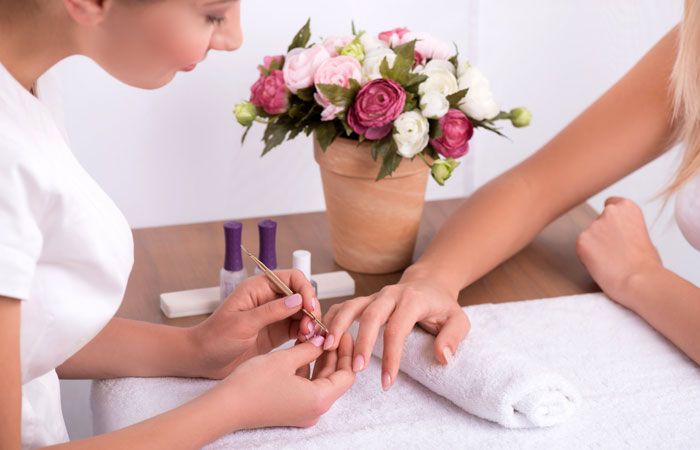 *This article may contain affiliate links. This means that at no cost to you, we may earn a small commission for qualifying purchases.
Are you looking for a way to amp up your fingernails and add some health and vibrance to them? A professional manicure may be just what you need to restore your confidence and grow out ragged fingernails that are lacking in strength.
However, if you do not already have a type of manicure that you love, you can find a manicure style that appeals to you from this comprehensive list or discover a new style to try at your next spa appointment.
See Also: 9 Different Types of Pedicures
1. Basic Manicure
The basic manicure is a short process that is perfect if you are looking for something super basic for natural nails.
During this fuss-free process, your nail care professional will clip and file your nails, clean and trim your cuticles if needed and paint your nails with any color you like. You will probably also get a brief hand massage.
Related: Steps to a Professional Pedicure
2. Spa Manicure
If you are looking for something that is a bit more in-depth that lets you relax at the spa, the spa manicure may be right for you instead.
Along with all of the steps of the basic manicure, you will also give your hands a little extra love with a longer massage, some aromatic scrubbing to get rid of dry skin and hydrating lotion on your hands and around your nails.
3. French Manicure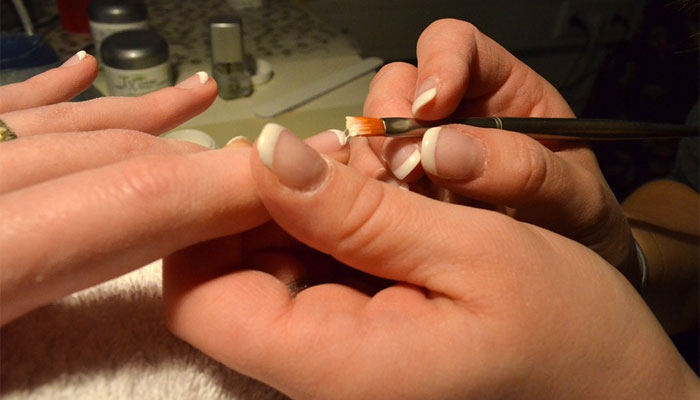 A French manicure describes the way that your nail polish is applied, and this can typically be added to another type of manicure, such as a spa manicure or a paraffin wax manicure.
This stylish option begins with white polish applied in a crescent shape on the tips of each of your squared-off nails before it is topped with a clear or translucent pink coat of polish.
If you want to opt for a trendier version of this classic option, ask about adding embellishments or other colors to your manicure. Any nail salon such as Happy Nails or Lovely Nails should offer French manicures as a type of service.
4. Paraffin Wax or Hot Oil Manicure
If your hands are particularly dry, which often happens during winter months, check out the paraffin wax manicure or hot oil manicure. While they use different products to soften and hydrate the skin on your hands, each serves approximately the same purpose.
With either option, your hands will spend time softening and relaxing in warm wax or oil-filled gloves or towels prior to your manicure.
5. Reverse Manicure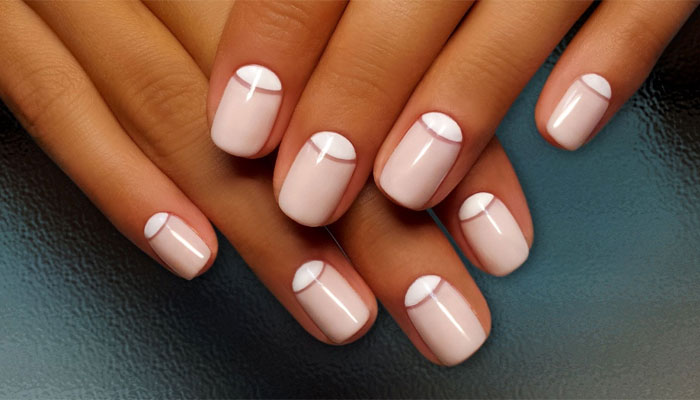 A reverse manicure is quite similar to the French manicure except that the primary color is painted at the base of the nails over the moon-shaped nail bed. It is a better option for short nails.
Popularized in recent years by stars on the red carpet, you can truly make this manicure your own by choosing from an array of exciting colors from bold to neutral.
6. Gel Manicure
Gel manicures have also been popular for numerous years because the polish generally does not chip for one to three weeks depending on how active you are. The most popular type of gel manicure is known as the soak-off manicure because the polish can be easily soaked off with acetone in your own home.
After the initial steps of your manicure are completed, your nail technician will apply a minimum of two layers of gel color along with a gel topcoat. Between each layer, the gel will be cured with a UV light. The finished look will be shiny and thick.
See Also: How to Thin Out Old Nail Polish
7. Shellac Manicure
Are you looking for that shiny nail appearance but also wanting to strengthen thin or peeling nails? A shellac manicure may be the right option for you.
After the initial steps of a basic or spa manicure, the nail technician will apply shellac nail polish, which is a combination of gel and regular polish. Rather than curing the polish with a UV light, a special drier is used.
A shellac polish manicure should last approximately two weeks.
8. Acrylic Manicure
If you love the look of long nails but cannot seem to make your own nails grow out, then an acrylic manicure is for you. This manicure is done in several steps that eventually allow the acrylic nail extensions to look like your own natural nails.
The nail technician first roughens up the smooth top surface of your nails before mixing a special powder with a liquid monomer to create the acrylic on your nail.
She will need to use a special brush to sculpt the liquid acrylic onto your nails before letting it dry. As it grows out, you will need to come back in for acrylic fill-ins.
See Also: Is Nail Glue the Same as Super Glue?
9. Dip Powder Manicure
Dip powder (aka: SNS) manicures seem to have burst onto the scene lately with many raving about the strength of this manicure. After the initial manicure steps, your nail technician will apply polish before having you dip your fingers into a pot of powdered color where the polish will set.
Although this manicure is incredibly strong and can last up to three weeks, it is more difficult to remove on your own.
Related: SNS vs Gel vs Acrylic Nails
10. Vinylux Manicure
With a Vinylux manicure, you will not need any base coat because Vinylux naturally adheres to the surface of your nails. While it provides long-lasting color of up to one week with no chipping, it is also super simple to remove at home with acetone-soaked cotton balls.
11. Brazilian Manicure
If you are looking for the closest possible polish application, the Brazilian manicure is an excellent option. After prepping your hands and nails, your nail technician will apply a clear coat of polish to the surrounding skin before thoroughly painting your nails and surrounding skin with your color of choice.
Next, she will use an orangewood stick, some cotton and a bit of acetone to remove the extra polish, leaving you with gorgeous all-over nail color.
Whether you are looking for bright colors, embellishments, increased nail strength or a relaxing hand treatment, your spa can help you achieve your goals and look your best. There you will be able to ask any other questions you have about the typical steps to a professional pedicure or manicure and gather information about which treatment is best for you.