Last Updated on July 15, 2022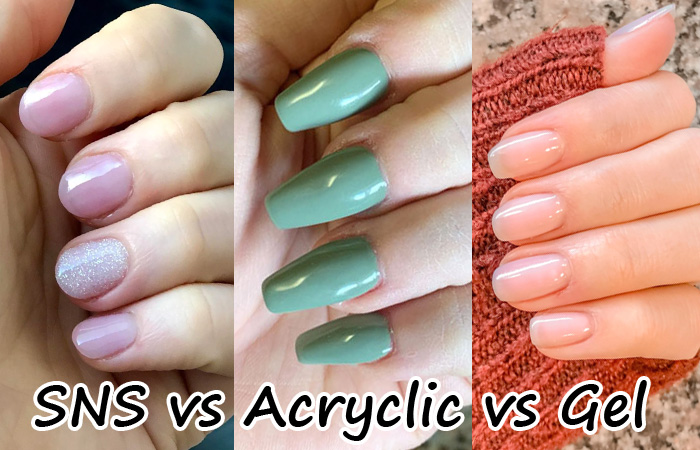 *This article may contain affiliate links. This means that at no cost to you, we may earn a small commission for qualifying purchases.
There is just something about manicured nails that makes you feel like you have your life together. You feel pampered and poised. It's totally worth the money… until it begins to chip.
Whether that's the next morning or right before a big date, a chip in your polish takes your nails from fab to drab very quickly. Luckily, nail gurus heard our prayers and now there are a lot of options when it comes to longer-lasting manicures than ever before.
But, which do you choose? Let's take a quick look at the 3 long-lasting manicure options to help you decide which is best for you.
See Also: 11 Types of Manicures
What Are SNS Nails?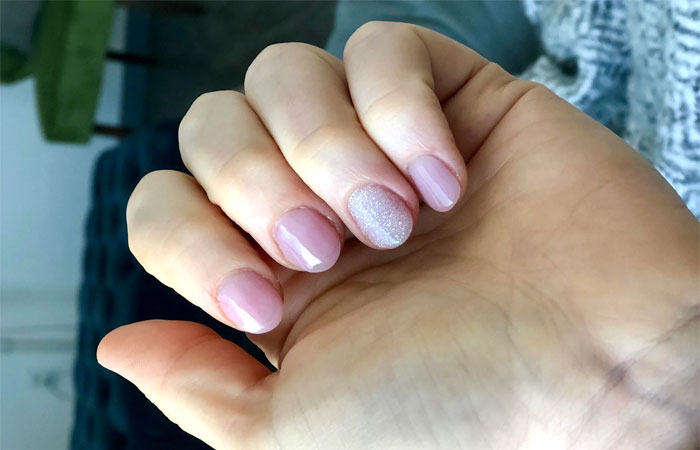 SNS is short for Signature Nail System, though often better known as dip nails. They are more gentle to your nails than acrylics and arguably better for your skin since they don't need to be cured under a special UV light like gel manicures.
Additionally, the powder sometimes has ingredients to nourish the nails.
Application
Nails are prepped for the powder with a base coat activator, then the wet nail is dipped into the colored powder. This step is repeated until you reach the depth of color and opacity you want.
Once done, the color is sealed with a top coat and is dry right away.
Durability
These nails are somewhere in between acrylic and gel in terms of longevity and can last for a few weeks. The color will stay chip-free for the duration of the manicure since the powder is the color and not just a layer on top of the nail.
Removal Difficulty
Since you dip nails a few times, it is applied in thin layers which makes it easier to remove. They still need to be soaked in acetone, but overall will be less damaging to the nail.
Cost
SNS manicures cost between $40-$75. The price does depend on the brand of powder and color. Solid colors will be less expensive than ombré color nails. Removing your dip nails will run about $10.
See Also: Lovely Nails Prices for Dip Powered Nails
What Are Acrylic Nails?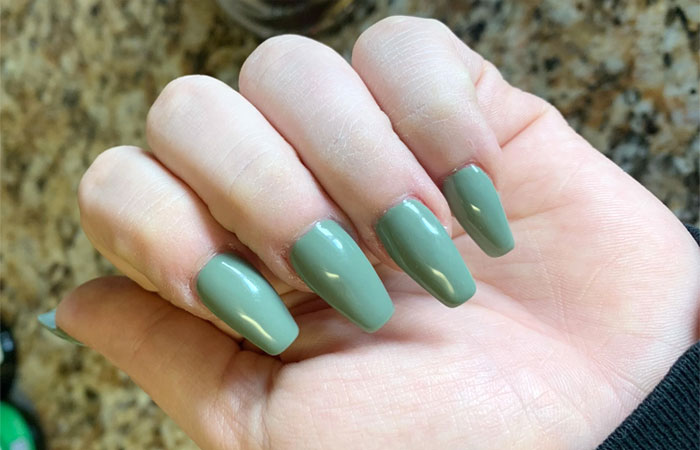 Acrylic nails are long-lasting and perfect for adding length to short nails. This is also the manicure that allows for gorgeous airbrush nail art.
Application
After gluing on tips, the nail technician will use a brush wet with acrylic liquid and dip the wet nail into acrylic powder before shaping a thick coat over your natural nail.
Then, using a nail drill the technician will even out the acrylic coat and make it smooth. Color is the next step, with acrylic nails allowing you to choose either airbrush color, gel, or regular polish.
Read Also: How to Thin Out Nail Polish
Durability
This manicure lasts as long as you want it to, as long as you get it filled. The time in between fills depends on how quickly your nails grow.
You'll need to get your nails filled every 2 to 3 weeks. Or when the space between your cuticle and the acrylic nail gets big enough to bother you.
Removal Difficulty
To remove these nails, you'll have to soak them in acetone. When they have softened or dissolved enough, the nail technician will gently remove them from the natural nail.
Cost
Acrylic nail prices vary widely. Airbrush designs come at an extra charge, usually per nail. French tip nails cost more, as does an upgrade to gel polish on top.
The average cost is $35-$45 for a basic set. Removing the nails will cost around $10-$15.
What Are Gel Nails?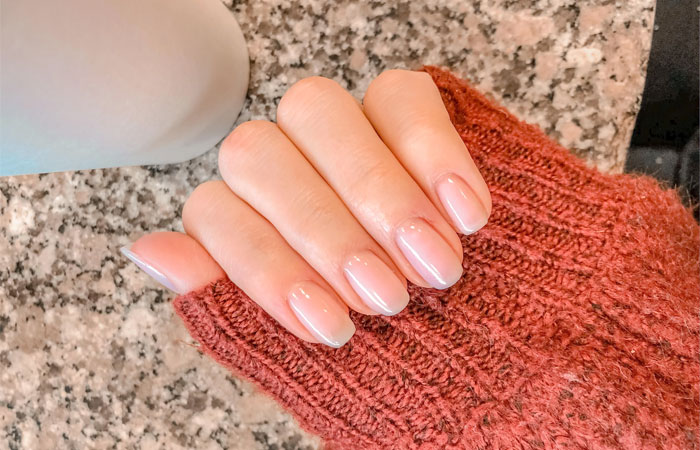 Gel nails give you the shiny manicure of your dreams. They have become so popular that gel polish and UV lamps can be easily purchased anywhere from Amazon to your local beauty supply store.
If your regular manicure chips quickly, then gel manicures might be your saving grace.
Application
Nails are prepped with a special basecoat that cures under the UV lamp and leaves nails tacky. The tacky surface helps the color layer adhere to the nail.
After curing the color, the nail technician will repeat the process until the desired color and opacity are achieved. Then a top coat is applied that leaves a strong coating on the nail that is instantly dry.
See Also: Can You Use Super Glue Instead of Nail Glue?
Durability
This manicure leaves nails shiny and chip-free for about 2 weeks, making it the perfect manicure for special occasions and vacations. Gel polish can also be used on toes for a long-lasting pedicure.
Removal Difficulty
Just like the other manicures on the list, gel nails require special removal. They need to be soaked in acetone (or use another removal method), and the nail technician will gently remove the polish once it has softened.
Cost
Whether you go to LA Nails, Lee Nails, or your local salon, gel manicures cost anywhere from $5-$10 more than a regular manicure, usually starting at around $35. It will cost around $10-$15 to remove gel polish.
Which Type is Best?
The best manicure depends on what you're looking for.
If you want extra length, acrylics are probably your best bet.
If you love regular manicures but need your polish to last longer than usual, a gel manicure is the one for you.
If your polish always chips and you don't change color often, an SNS dip manicure is a good choice to give you long-lasting color without chipping.
If DIY is your thing, keep in mind these aren't as easy to do at home as a regular manicure. They require special tools, products, and a lot of practice to get just right. Since they are difficult to DIY and last so long compared to regular manicures, they are worth the cost of having them done at a salon.
Even if you chose to give it a try at home, removing them is best left to the professionals. If done incorrectly, it can damage your natural nails. It is also good to follow the removal of any of these specialty manicures with a regular manicure to keep nails and cuticles in shape.
Read Also: 6 Tips for Longer-Lasting Press On Nails
The Bottom Line
Whether you want extra length, extra strength, or just need a manicure to last as long as your weekend away, there is a manicure for you.
With the quick breakdown above, you've got all the help you need to be able to pick the right one. Now the hardest part will be choosing the color!