Last Updated on November 8, 2022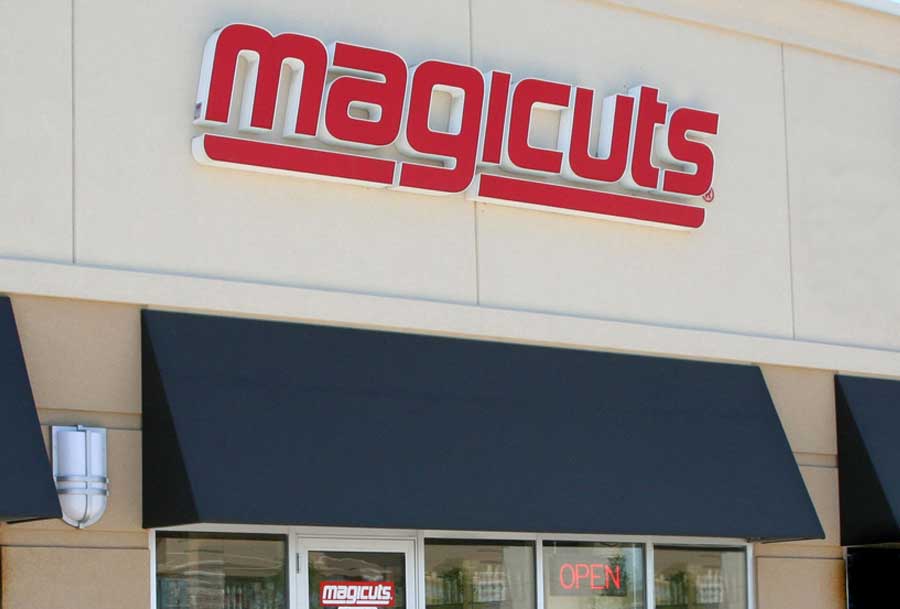 Magicuts salon stylists understand the look their clients want. With hundreds of franchised salons throughout Canada, Magicuts offers all salon services with its convenient mall locations. Founded in 1981, Magicuts successfully styles thousands of happy clients at an affordable price.
Keep reading for information on all the services provided by Magicuts and their respective prices.
Why Choose Magicuts?
Magicuts belongs under the giant Regis Corporation and has made people look and feel beautiful for over 40 years. Magicuts offers professional salon services in several Canadian provinces, including Ontario, British Columbia, Quebec, and the eastern regions.
Magicuts provides excellent hair styling services at an affordable price in many convenient locations. Supported by the vast Regis Corporation, Magicuts offers brand-name salon products like Paul Mitchell, Redken, Biolage, Nioxin, and American Crew.
The key success behind Magicuts is that each professionally trained stylist offers their client fast and friendly service without the tedious process of booking in advance.
Services Offered
Magicuts provides versatile hairstyling services to its clients. Stylists can accommodate regular cut & style options or suggest perming or texturizing solutions to help clients individualize their style.
For clients in the market for a highlight or coloring service, Magicuts staff has experience in these trendsetting hair coloring options. Whether clients want to disguise early onset grays or jazz up a look with luxurious all-over color options or foil lights, Magicuts stylists have the skill.
Magicuts is unique in the hair salon category because their stylists can style children, adults, and seniors.
Haircuts
Basic haircuts and trims are the bread & butter of the salon industry. Magicuts professionals offer pre-cut consultation to ease prospective clients into subtle or more drastic changes.
Stylists can clip unmanageable hair into classic or layered bobs or fun pixie cuts, create texture with long or short layers or cut and blend bangs.
Magicuts also accommodates men's cuts with traditional definitions and trendy styles.
Choose from:
Cut & shampoo is a popular choice that allows clients to experience a spa-like atmosphere with the best professional products.
Cut, shampoo & style packages are perfect for that polished look.
Students can take advantage of price reductions at select locations
Children's cuts with a personal touch.
Color Services
Clients looking to refresh their hair color can rely on Magicuts color experts to find the complimentary look to make their hair shine.
Choose from:
All-over color to rejuvenate hair texture and color
Highlights add dimension and revitalize skin tone and texture
Foils are inconspicuous yet add a glow
Gray blending is a unique method to transition hair tones and camouflage unsightly gray strands.
Specialty Services
Magicut understands that consumers need specialty services to help them complete their looks. Choose from conditioning treatments, special occasion styling, and waxing services.
Demanding hairstyles require nourishing and hydrating treatments to rejuvenate over-processed hair.
Perms add texture and are a fantastic wash-and-go option.
Specialist styling from an expert trained in updos, straightening, or any special occasion look.
Facial waxing polishes the look and defines eyebrows or removes unsightly growth.
Magicuts Salon Price List
Affordability is perhaps the biggest drawing card for Magicuts loyal client base. In an industry where it's not uncommon to pay over $50 for a simple haircut, Magicuts is an excellent alternative for men and women.
Magicuts Professional Services
Please note that some Magicuts salons might charge a premium for longer hair.
Disclaimer: Prices below are for estimate only. The data has been gathered from various sources (online, on-site, and/or via phone). Pricing may vary from one location to another of the same salon brand or may not be current. To confirm current pricing, please contact your local salon.
Service
Price

Services

Haircut, Shampoo, & Dry Styling
$21.95
Regular Haircut 
$15.95
Children Under 10
$10.95
Shampoo With a Haircut (Extra) 
$3.95
Additional Style Dry With Cut
$6.95
Trims (Beard or Bangs) 
$7.95

Professional Services

Perms (Shampoo, Cut, & Style)
$57.95
Specialty Perms (Weave, Spiral, Piggyback)
$96.95
Color Treatments (Shampoo, Cut, & Style)
$43.95
Highlights
$89.95
Foils (Each Additional Foil $7.00)
$40.00
Facial waxing (Starting)
$8.00
Please note that prices might fluctuate or rise during economically challenging times and vary by province.
Magicuts Salon Hours
Magicuts serves its clients with convenient hours. Some locations allow pre-booking, walk-ins, and app check-in. Before arriving, it's always wise to double-check each location, as many small businesses experience staffing shortages.
Typical Salon Hours
Disclaimer: Hours of operation may vary slightly from one location to the next. To confirm current hours, please contact your local salon.
| Day | Hours |
| --- | --- |
| Monday | 9:00am – 7:00pm |
| Tuesday | 9:00am – 7:00pm |
| Wednesday | 9:00am – 7:00pm |
| Thursday | 9:00am – 7:00pm |
| Friday | 9:00am – 7:00pm |
| Saturday | 9:00am – 5:00pm |
| Sunday | 12:00pm – 5:00pm |
Salon Products
Magicuts works closely with prestige salon brands like Redken, Paul Mitchell, American Crew, Nioxin, Biolage, and It's a 10. These brands offer clients the best hair care and treatment options at an affordable price.
Choosing the right product mix is daunting for many clients as the salon category's choices grow yearly. The salon hair and nail market in Canada are worth 4 billion.
The team behind the Magicuts salon brand chose an excellent collection of haircare products for its clients. Salon formula shampoos, conditioners, after-treatment, and styling product help clients maintain a stylish look between hair appointments.
Company History
Magicuts salons surpass the test of time and have been cutting hair for over four decades (1981) in many Canadian provinces. After its inception, the founder of Magicuts began franchising the salons, providing hair care services for women, men, seniors, and children.
As a recognizable salon styling brand, Magicuts is a Canadian franchise division under Regis Corporation. Regis manages and owns over 5500 hair salon franchises and over 270 company-owned salons in Canada and the US. 
Headquartered in Minneapolis, Minnesota, Regis operates Magicuts and industry salon giants like First Choice Haircutters and Supercuts on a 100-year foundation.
Throughout its history, Regis stood behind the Magicuts brand and all stylists receiving training on the appropriate hairstyling techniques of the modern hair styling market. Regis is also vested in cosmetology schools and supports Women in Leadership roles.
Regis is continually looking to franchise more of its salons in all provinces, including those with little or no representation, like Alberta, Manitoba, and Saskatchewan.
New and experienced stylists working at Magicuts benefit from competitive hourly wages and commissions. Staff can also take advantage of the generous benefits plan, including vision, medical, and dental.
All staff receives training, support materials, and opportunities for advancement. 
"Magicuts is about more than just haircuts."
Magicuts Salon Links