Last Updated on January 7, 2022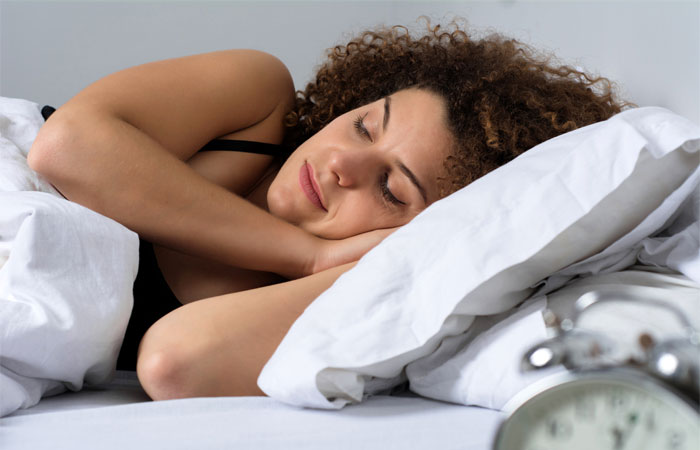 Whether they're natural or you used styling tools, when your curls look just right, you wish they could last all week. But the second your head hits the pillow those curls you spend so much time perfecting will be a jumbled mess. It makes you want to stay awake all night.
But before you start pounding espresso or try to sleep sitting up, take a look at these ten tips to keep those curls looking right even after your beauty rest.
Read Also: How to Keep Your Hair Straight Overnight
How to Keep Curls Overnight
1. Use A Headband
Tools Needed: stretchy headband and at least 2 bobby pins
This method will give you some curls if done with wet hair and will help maintain your curls when done dry.
Put a stretchy headband around your head halo style so it goes across your forehead. Separate hair down the middle as though you were going to put it in pigtails.
Starting in the front, wrap a small section around the headband. Add more hair and wrap it around the headband. Continue until all hair in that half is wrapped around the headband and secure ends loosely with a bobby pin.
Repeat with the other half of your hair and secure ends. When you wake up, gently unwrap the hair, and your curls will be ready to go!
2. Pin Curls
Tools Needed: a lot of bobby pins
This is a great method for keeping tighter curls in overnight.
Take a small section of hair and curl it up like you would if you were winding it around a curler, and then twist it so it lays flat against the scalp. Use 2 bobby pins in an X to make sure it's secure. Repeat until all hair is wrapped up.
When done on wet hair, these can create the curls that set the foundation for retro pin-up styles. But, that can take practice to get just right, so make sure hair is dry and wrapped a little loose. That way it keeps the curl but doesn't create any new patterns.
In the morning, unwind curls and finger comb into place.
3. Ballerina Bun
Tools Needed: scrunchie
This method is best for long, loose curls. It's also the easiest method.
Simply gather hair into a ponytail and twist. Then roll into a bun and secure with the scrunchie. Wrap the scrunchie loosely, but not so loose the hair will fall out before morning.
When you wake up, take the bun down and enjoy the preserved curl as well as the extra volume this method gives you.
4. Space Buns
Tools Needed: 2 scrunchies
This method is good for people who like the ballerina bun method, but want a tighter curl.
Section hair into pigtails and twist one pigtail. Roll into a bun and secure. Repeat on the other side. In the morning, unwind the buns and style as usual, taking advantage of the volume this method will add to your hair.
See Also: Curly vs Straight Hair (Which is Better?)
5. Milkmaid Twists
Tools Needed: 2-3 medium claw clips
This is a particularly good method for people who sleep on their back.
Part hair into pigtails and either twist in one section or divide pigtails into 2 strands and twist around each other. Repeat on the other side and secure twists to the top of the head, putting claws where it holds hair best, but won't cause pain if you lay on a pillow.
If you look like a Swiss milkmaid, you did it right! Keep in mind that the tighter the curl is, the tighter your twist will need to be. In the morning, take out the claw clips and separate the twists to enjoy your perfect curls or waves!
6. Pineapple
Tools Needed: bandana or silk scarf
This is the perfect method for natural curls. It's also easy.
Depending on the length of hair, you simply put your head upside down and put the bandana or scarf at the nape of your neck and tie ends on top of your head.
If your hair is longer, you may need to twist it a little for it to work. This keeps natural curls from getting tangled and protects the curls on the top layer of hair.
In the morning remove the bandana, and your hair is good to go. Any flattening of curl will be underneath and undetectable when your hair is down.
7. The Scarf Braid
Tools Needed: 1-3 bandanas or scarves, 1-2 hair ties
This is perfect for loose wavy curls.
In this method, you use the scarf or scarves to bulk up the 3 strands you'll braid with or one scarf as the third strand of the braid. This helps keep the strands even so you don't have nice waves at the top that turn into tiny little crimps at the end.
The scarf also helps keep the hair tie you use to secure your hair from leaving marks in the ends. In the morning, unwind your hair and your curls will be a gorgeous as the day before.
See Also: 17 Types of Braids
8. Use A Robe Belt
Tools Needed: robe belt, 2 scrunchies.
This is another method that can be done wet to create curls and dry to maintain curls overnight.
Take the belt of a robe and lay it across the top of your head. On one side of the head, take a section of your hair and wrap it away from the face around the belt. Use a scrunchie to secure, without wrapping too tightly. Repeat on the other side.
If you have trouble with the robe belt slipping, you can use a claw clip to keep it on top of the head. Remove before you do the other side so you can smooth down the top before you wrap the hair.
If you don't have a robe, a long silky scarf can be used instead.
9. Keep It Silky
Tools Needed: silk pillowcase, scarf, or shower cap/bonnet
This makes sure your curls glide along a silky smooth surface as you sleep instead of getting roughed up rubbing against cotton as you twist and turn throughout the night.
It is a great addition to any method above or a helpful everyday practice for naturally curly hair.
10. Style Prep
Tools Needed: wide toothed comb, hair oil or cream
Make sure your styling products are the right ones. Too much hairspray or silicone-based products during the initial styling makes in almost impossible to keep curls beyond the first day. If you have prepped the hair with good products, you can make them last a few days.
At the end of the day, detangle your curls using a wide-tooth comb and combing from underneath the layer you are combing. This keeps the curls intact better than brushing like normal.
Then, use a little bit of hair cream or oil to revive the curls. Keep it concentrated in the ends so roots don't get oily. This is a good daily practice for naturally curly hair, as well as perfect prep for any of the methods above.
Final Thoughts
There you have it. 10 ways to keep your curls overnight. Not heat styling hair every day keeps it healthy, so use any or all of the methods often to keep curls in or try some with wet hair to put curls in to take a break from the curling iron.
If you are prone to oily hair, you can use dry shampoo before you try one of these tricks. This will prevent hair from getting oily overnight, and keep you from having to disrupt your curls the next morning trying to work the dry shampoo in.
A little hair cream or oil will keep the curls tamed and defined. Try one or all of these methods, and rock those gorgeous curls!