Last Updated on September 13, 2022
*This article may contain affiliate links. This means that at no cost to you, we may earn a small commission for qualifying purchases.
There's just something about silky tresses that make you want to reach out and touch them. With just a toss of the head, they seem to fall perfectly into place looking soft, shiny, and healthy.
All the damage we do to our hair from heat styling to bleaching leaves hair dry and damaged. To revive our parched strands, we buy conditioners that in turn leave hair looking greasy. It can be so frustrating.
Luckily, there are ways to get softer, healthier hair without using products that make you look like you haven't washed your hair in a week.
See Also: Shampoo or Conditioner: Which to Use First?
Is Hair Conditioner Necessary?
In a word, YES! Regardless of length, texture, or thickness, everyone needs to use conditioner.
Curling irons, blow dryers, and flat irons can give us beautiful styles but wreak havoc on our hair. Repeated coloring and bleaching to get the perfect balayage highlights can damage it further. Even less obvious things like your shampoo, dry weather, or hard water can affect the health of your hair.
Conditioner helps moisturize, repair, and protect it. Since the potential for damage is unavoidable, it's not just for thick and unruly manes. Even short and fine hair both need conditioner.
Related: Why Does My Hair Get SO Tangled?
How Often to Use Hair Conditioner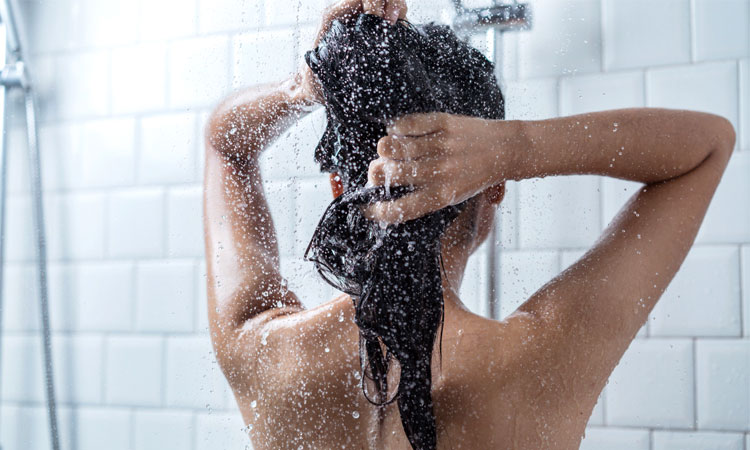 In general, you need to condition every time you shampoo. Shampoo, even if it is a formula without sulfates, has detergents in it.
Its job is to remove dirt and oil, so you don't have greasy hair, but it doesn't know the difference between excess oil on your scalp and the moisture you want to keep on the ends for its health. After the shampoo's detergents wash away that moisture, you must put some back in.
Conditioner is necessary for your hair's health. Beyond just making it easier to run a comb through your tresses, conditioner protects the fragile ends of your hair.
While skipping it occasionally won't be too detrimental, frequently washing without conditioning can lead to dry, brittle hair that is more prone to breakage.
Frequency Depending on Hair Type
Regardless of hair type, it needs to be conditioned every time you shampoo. The trick is to choose the right conditioner for your hair type.
Fine Hair – Moisturizing ingredients can be heavy, so fine hair will need a light conditioner to avoid having limp and lifeless locks.
Thick/Coarse/Curly Hair – These hair types will need more moisture to nourish their strands, so a heavier moisturizer is necessary.
Colored/Bleached – Hair that's been recently colored or bleached can accept a little extra beyond that.
By putting a little conditioner in the hair before shampooing, it protects the ultra-processed ends from losing moisture when the detergents clean the hair. Once the shampoo is rinsed out, condition as normal.
Frequency Depending on Conditioner Type
Deep conditioning is a great way to keep hair healthy but shouldn't be used after every shampoo. It's an occasional use mask or balm that has special ingredients, including heavier moisturizers, that nourish the hair.
There are formulas for every hair type and are an important step in your hair care regimen. Only very fine hair should avoid deep conditioning masks, as the moisturizers are too heavy and would weigh it down.
How often should we use them? For medium to thick hair, using a mask once every week or two will be enough to keep your mane manageable and healthy. Super thick, coarse, or curly hair should be deep conditioned weekly.
See Also: 7 Reasons to Use Black Tea on Hair
Can You Condition Your Hair EVERY Day?
If you shampoo every day, you can condition every day. It's not a good idea to shampoo that often because it can dry out your scalp, making it itchy and flaky.
Actually, conditioner is even more important if you wash your hair every day because the natural oils from your scalp are washed away too quickly for them to make their way down the strand to the ends of your hair, leaving them dry and brittle.
Can You Condition Without Shampooing?
If your hair is very damaged, dry, or over-processed, you can condition it without shampooing. But, if you will heat style after conditioning, it would be best to wait until you are ready to shampoo as well.
As mentioned before, curling irons and other hot tools can damage hair. If you blow-dry each time you wet it, you cancel out the conditioner's benefits and might even be causing more damage.
Another thing to take into consideration is whether or not you have an oily scalp. Water alone won't wash away the sebum and will leave hair looking greasy even if the ends are parched. If you don't want to wash it, use a dry shampoo on the roots to keep it looking clean.
If you have an oily scalp or medium hair, try a leave-in conditioner instead. It's lighter than traditional rinse-out formulas but will add moisture to your extra dry ends. Thick or coarse hair can handle regular conditioner.
Unprocessed and fine hair should stick to conditioning after shampooing or they may find their hair is over-conditioned.
How Do You Know if Your Hair is Over-Conditioned?
For the most part, only fine hair will need to worry about over-conditioning. Getting the right formula and using the guidelines above will keep you from overdoing it.
That said, finding the right conditioner can make you feel like goldilocks playing a long game of trial and error before finding one that's just right, so you'll need to know what to look for.
Hair that's been over-conditioned is limp, lifeless, or greasy right after using it. Before you write a conditioner off though, make sure you have applied it correctly. Putting conditioner at the roots of your hair can cause the same problems over-conditioning does.
Always apply conditioner from the bottom of the ears down. The scalp already supplies the hair closer to the scalp with moisture so adding more can make it look dull and greasy instead of bouncy and shiny.
If you use conditioner in the right spot and it's still limp and lifeless, it is over-conditioned.
Should Men Use Conditioner?
Conditioner is not just for the long-haired ladies. Everyone needs to protect and nourish their hair, including men.
We often think it's just for women because the natural oils made by the scalp have to travel so far to nourish the ends, that long hair is more visibly dry than shorter strands. That's why the added moisture from a conditioner is so important for both women and men with longer locks.
Even without extra length, men with short hair still face the harsh detergents and hard water that cause hair to be dry and harder to style. Beyond manageability, dry hair is more prone to breakage and if the hair is already thinning, it can make it look more severe.
Since shorter hair is closer to the scalp and benefits from its natural oils, a light conditioner is often all that's needed to keep it healthy. A conditioner with tea tree oil is especially good as it helps balance the scalp's oils and won't cause it to look greasy or weighed down.
Final Thoughts
With all the things that can damage hair, conditioner acts as a powerful protector for our stressed strands. Finding one you love can take time, but following the steps above will make it easy to have healthy hair with bounce and shine when you do.